Sequel Bits: 'Fast 7', 'Mission: Impossible 5', 'The Wolverine 2', 'Beetlejuice 2'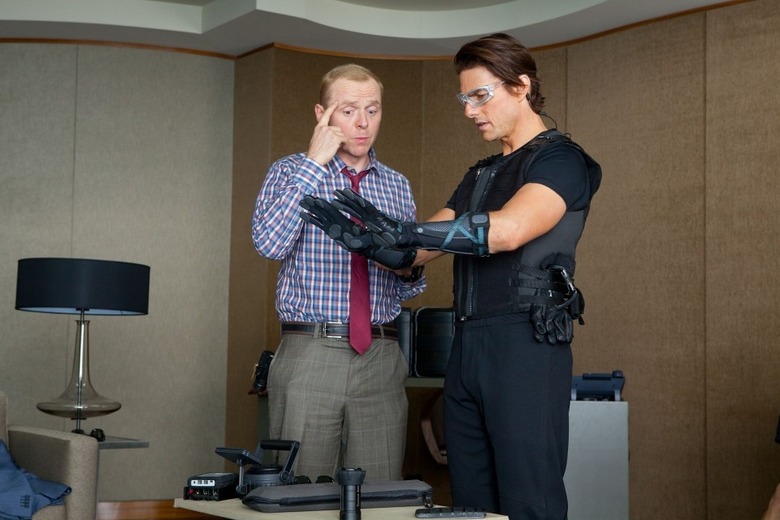 Today's action-packed Sequel Bits contains news about spies, martial artists, giant alien robots, tortured mutants, and so much more. After the jump:
Transformers 5 and 6 depend on Transformers 4
James Mangold offers a minor Wolverine 2 update
Winona Ryder is "sworn to secrecy" about Beetlejuice 2
Simon Pegg says he'll return for Mission: Impossible 5
Ong-back star Tony Jaa joins Wu Jing in SPL 2
Dwayne Johnson shares a fiery Fast & Furious 7 pic
Somehow The Hobbit is not done putting out new posters
As such, there's still no word on whether director Michael Bay could return. Although the filmmaker previously stated that Transformers: Dark of the Moon would be his last for the franchise, Moore explained that they got him back for Age of Extinction by giving him new challenges: the launch of a whole new storyline, plus the opportunity to shoot in China. If they come up with something equally intriguing for Transformers 5, maybe they could tempt him to come back yet again. [via TFW2005]
X-Men fans were all abuzz over this month's news that James Mangold and Hugh Jackman would re-team for The Wolverine 2, but the director cautions that the project is not so far along at this point.
"Well, pre-production – I would say I'm not there yet," he said. "But I have taken finger to key. Let's say that. There's been typing. And ideas. And talking amongst all the principles." Presumably that "typing" involves some of those "really cool ideas" he told Hugh Jackman about recently. [Collider]
Tim Burton and Michael Keaton are probably on the verge of a reunion, and now it seems Winona Ryder is getting in on the fun too. The actress has said that she is "kind of sworn to secrecy" about the Beetlejuice sequel, "but it sounds like it might be happening."
Though if those Burton and Keaton talks fall through, Ryder asserts that she'll be out as well. "I would never go near [a sequel] if it was not Tim and Michael," she said. "Because those guys, I love."
Ryder also confirmed once again that the new Seth Grahame-Smith-scripted picture is not a remake, but a sequel. "It's 27 years later. And I have to say, I love Lydia so much. She was such a huge part of me," she said. "I would be really interested in what she is doing 27 years later." [The Daily Beast]
Expect to see Simon Pegg bumbling across your screen next Christmas. The Brit star confirms that he will "absolutely" come back for Mission: Impossible 5, which currently has Tom Cruise and writer Drew Pearce attached.
In fact, Pegg explains, he's started prepping for the role already. "I've already started eating one carrot a day in order to be in shape," he joked. "Actually, that's not good for you to do that. Don't do that." Mission: Impossible 5 will open December 25, 2015. [MTV]
Ong-bak star Tony Jaa is signing on for action sequels left and right. As he continues shooting Fast & Furious 7, he has signed on to join Wu Jing for SPL II, a sequel to 2005's Saat po long (or Kill Zone as it's known in the States).
Described as "an action/drama that should keep the audience very much on the edge of their seats," SPL II is being directed by Terrence Cheung although original helmer Wilson Yip "remains very much involved," according to the press release. Production will begin next spring. [Twitch]
Meanwhile, Jaa's Fast & Furious 7 co-star Dwayne Johnson has posted an explosive new pic from the set via Instagram. His lengthy, hashtag-heavy caption is below.
"I didn't bring the cavalry.. I AM the cavalry" ~ #HobbsTheBeast On set. 4am. High on dirty thoughts & adrenaline as I wait for my director and partner in crime, James Wan (standing deep in the background) to yell "ACTION". #FastAndFurious7 #SilverbackOfTheLaw #ThisIsHowIWalkIntoMyBedroom
Wan backed up Johnson's comment, tweeting, "That's me deep in the tunnel designing the shot!"
Though there was talk at one point that Brett Ratner's Hercules could prevent Mr. Franchise Viagra from returning to the Fast & Furious fold, Johnson's managed to make it work by jumping from one film to the next with little rest in between.
The action-packed sequel opens July 11, 2014. Also starring are series regulars Vin Diesel, Paul Walker, and Michelle Rodriguez, plus badass newcomers Jason Statham, Kurt Russell, Djimon Hounsou, and Ronda Rousey. [Dwayne Johnson's Twitter]
Warner Bros. has five more posters to show you from The Hobbit: The Desolation of Smaug, featuring Bilbo Baggins (Martin Freeman), Gandalf (Ian McKellen), Thorin Oakenshield (Richard Armitage), Legolas (Orlando Bloom) and Tauriel (Evangeline Lilly), and Bard the Bowman (Luke Evans). Add them to the big pile that already includes these banners, this even longer banner, and these character posters.
And here's another TV spot — the sixth, by Warner Bros.' count.
Are you pumped yet? Peter Jackson's The Hobbit: The Desolation of Smaug lands December 13. [Facebook]