'The Wind Rises' US Trailer: Miyazaki's Final Feature In Flight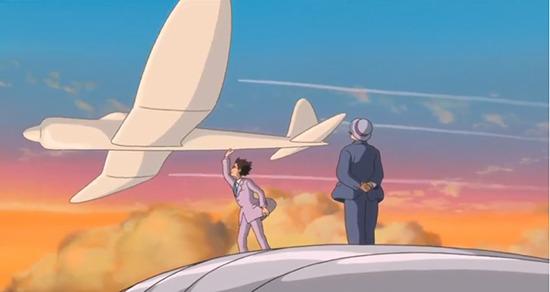 Hayao Miyazaki's final feature film, The Wind Rises, just finished its Oscar-qualifying run in New York and LA, and will be back in theaters for a full run in February. This first brief run of the film was a subtitled affair, preserving the original Japanese voice track. When the movie returns next year there will be a choice of subtitled and dubbed versions.
We've got a new trailer for the US release, but we don't get to hear those performances. In fact, we don't even know who the English voice actors are. The sound here is mostly via one of the film's songs.
Therefore, while this trailer gives you some idea of a few visual flights of fancy that take place in the movie, as Jiro Horikoshi dreams of becoming an aeronautical engineer and follows through to succeed at his goal, it does not let us hear much of the film's stunningly unique sound design. I won't be more specific, but the aircraft and natural events in this film don't sound quite like you'd expect them to. 
The Wind Rises opens in another limited run on February 21, 2014, then will expand on February 28. Trailer via Deadline.
In "The Wind Rises," Jiro—inspired by the famous Italian aeronautical designer Caproni—dreams of flying and designing beautiful airplanes. Nearsighted from a young age and thus unable to become a pilot, Jiro joins the aircraft division of a major Japanese engineering company in 1927. His genius is soon recognized, and he grows to become one of the world's most accomplished airplane designers. The film chronicles much of his life, and depicts key historical events that deeply affected the course of Jiro's life, including the Great Kanto Earthquake of 1923, the Great Depression, the tuberculosis epidemic and Japan's plunge into war. He meets and falls in love with Nahoko, and grows and cherishes his friendship with his colleague Honjo. A tremendous innovator, Jiro leads the aviation world into the future. Miyazaki pays tribute to engineer Jiro Horikoshi and author Tatsuo Hori in his creation of the fictional character Jiro—the center of the epic tale of love, perseverance, and the challenges of living and making choices in a turbulent world.