'The Flash' Will Now Have His Own CW Pilot [Updated]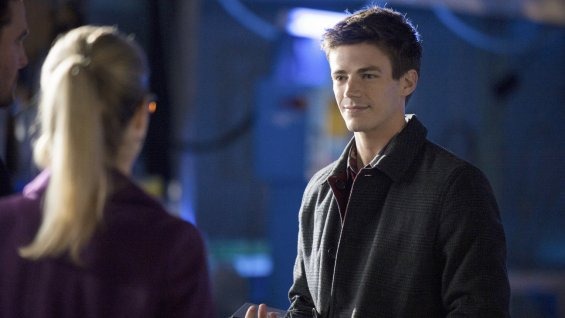 Over the summer, it was revealed that Barry Allen, aka The Flash, was going to be introduced on the CW series Arrow. Grant Gustin was cast in the role and the plan was that after appearing in two episodes of Arrow, a later episode would highlight the Flash and serve as a "backdoor" pilot for the character.
Those plans have now changed. After seeing Gustin in his first two Arrow episodes, numbers 8 and 9 airing December 4 and 11, executives have decided the character will get his own pilot instead of it being disguised as an episode of Arrow.
Update: The image above is the first official still of Gustin as Barry Allen, as he appears int he December 4 episode of Arrow.
Deadline broke the news of the latest plan. Barry Allen will still be introduced in episodes 8 and 9 of Arrow, as a "a Central City assistant police forensics investigator who arrives in Starling to look into a series of unexplained robberies that may have a connection to a tragedy in his past." Then, originally, in the 20th episode of the series, he was going to appear in the red Flash costume but that reveal is now being saved for the Flash pilot.
With The Flash and Arrow existing in the same universe, it shows an obvious direction towards a DC Television Universe. Most experts seem to agree, however, this universe will not crossover with the theatrical universe featuring Batman vs. Superman. The biggest question then regards the Flash movie. One of those has long been rumored, and expected, to be on deck for a theatrical spin. Do you think moving forward with the pilot makes those plans moot? Or could they just do two versions of the character? That would be mighty confusing, though, don't you think?
Also, never forget The Flash was already a TV show in the early 1990s. I remember liking it as a kid but, then again, I was 10. Here's the intro to that version.
What do you think Warner Bros. has in store for The Flash?