'Need For Speed' Trailer; Aaron Paul And Director Scott Waugh Explain The Film's Hardcore Stunts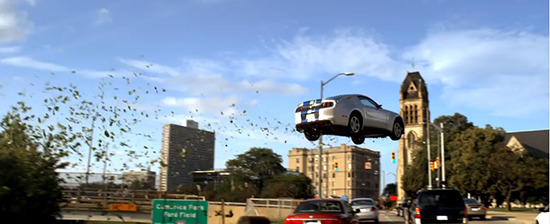 Need for Speed director Scott Waugh comes from a stunt family; his father was best friends with Hal Needham, the stuntman who directed Smokey and the Bandit and Hooper, and Waugh grew up around some of the most famous stunt work on film. During a visit to Waugh's Bandito Brothers office to see some footage from his new movie, Waugh explained "My viewpoint is [the time] when car movies were amazing, in the '70s and '60s to the '80s. It was great, because it was all real, it was in-camera, the dudes really did it, I was there to witness it." So his whole motivation with Need for Speed was not to create a CG-heavy video game movie, with unbelievable action, but to create a stunt movie with visual ties to the game.
"I'm all about practicality," he said, "because I believe that, if you break the rules of physics of physics in stunt work, you break the rules of character jeopardy. If a car can jump off a moving train that's 40 feet high and land and keep going, then a person can take a bullet and keep going, too."
All of which to say is that, when making Need for Speed, nearly everything was done via practical means, with real drivers in the cars. "If a car crashes, it' ain't going anywhere" laughs Waugh. And as often as possible, it was Aaron Paul doing the driving. Watch a new trailer and read more about the making of the film below.
Here's the new trailer:
Around the two-minute mark in that trailer, you'll see a Mustang fly high over a roadway. That was a real jump, explains the director.
"How do we find something that has the right angles [to make that possible]," he wondered. "If you find a natural down ramp you can sustain the height, because you're not landing on flat ground. We spent months trying to find a place to do the Mustang jump, and we were driving around Detroit when I said STOP!" He'd found the spot, and that let to weeks of mathematical calculations, factoring speed and the height it could deliver, and the result is what you see there.
Aaron Paul didn't do that jump, but he says that "Scott said 'the majority of this will be practical. So first, we're going to have to teach you how to drive like these guys.' So I went through a whole stunt crash course, and it was a blast." There was nothing in that course he wouldn't do, Paul said, and he explains that "by the end of the first day I was flying down a ramp and doing a full 360 [spin] on a skid pad," then it was moves like high-speed backwards driving through a slalom course.
There's a reason for the training. Waugh's summation is "We do everything for real, and I want to actually show the audience what we're doing, not hide what we're not doing." He later elaborated, "I know when an actor's driving a car, you can tell by the wheel finesse. You put the tires on the ground, and they have to steer it? It changes everything. It was a constant test but it makes the movie."
Early in the film, there's a big chase sequence that ends with a fiery crash off a bridge, which you see part of in the trailer. How'd that come together? Here's Waugh:
We spent a lot of time trying to find that bridge, on paper it was just supposed to be on a road. I said 'I think he's got to fly through the air, tumble down the bridge, off the bridge and land down in the water. And I know we can do this practically.' Lance Gilbert and I really wracked our heads for a while about how to do this practically, because the studio was nervous, they thought we should do it in CG. I said no, I'm not breaking my rule, if we can't do it practically we're going to change the stunt. So we tested a lot, we tested for months during pre-production and even during production. [Lance] would do tests of how to get that car to lift off and fly the way it did. It was a physics conquest.
Scott Waugh said of Paul "He was really physically talented behind the wheel, and we could put the camera places you normally couldn't with an actor. You'd have to tow it and use the process trailer crap. Aaron was a true treat." In fact, Waugh laughs "my instructor that we hired to [teach him] said 'You know, if acting shit doesn't work out for this kid, stunts is going to be good for him.'"
Need for Speed opens on March 14.
Framed for a crime he didn't commit, muscle car mechanic and street racer Tobey (Aaron Paul) gets out of prison determined to settle the score with the man responsible for his false conviction.