David O. Russell Wrote A Horror Film Eli Roth Might Direct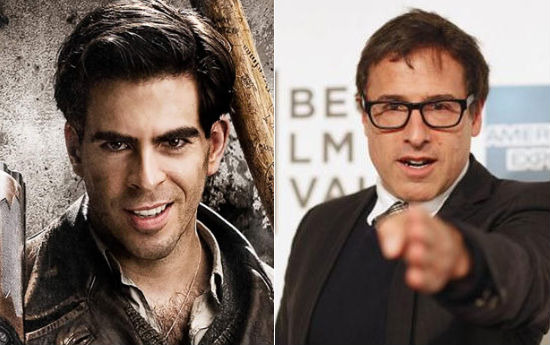 Writer/directors David O. Russell and Eli Roth both have new movies completed and ready for release. From the sounds of it though, the odd couple could work together in the future. Russell participated in The Hollywood Reporter directors roundtable (for his film, American Hustle) and was talking about the pile of unproduced screenplays he's written over the years. He mentioned a few of them were out of his usual dramatic genre including a time-travel film as well as a horror film that Roth could possibly be directing. 
The quote can from the Hollywood Reporter's roundtable, and was found by The Playlist.
I wrote a couple of things that someone might make, Eli Roth may actually do one, I wrote a horror a few years ago.
He continues.
Well it'll be coupled with Eli Roth, that's exciting to me. Cause I had to write to support myself. So I wrote a horror for producer Colleen Camp, a horror film that I thought was interesting. And Eli thinks its interesting, I think he's going to make it more interesting. It's emotional, it's also... we'll see. It's also...I don't wanna say anything more, I'll let Eli talk about it.
He also mentioned another genre film he wrote, which sounded a little less further along:
I also wrote a supernatural... sort of a time thing, that again is out of my genre. You would probably be better at it than me.
The "you" in that statement is Alfonso Cuaron.
I have no idea what at David O. Russell horror film would look like. I assume it would be highly psychological. A time-travel movie, hypothetically, makes a bit more sense, but that one doesn't have Eli Roth attached so it's probably further away. We'll definitely keep an eye out for updates on this projects, especially with both directors head out to do press in the coming months. What do you think of the pairing?