'Heaven Is For Real' Trailer: Greg Kinnear's Son Sees Dead People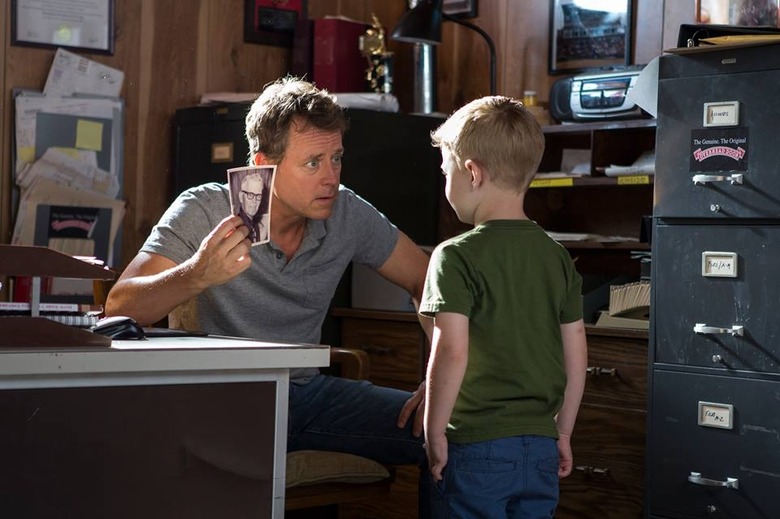 What would you do if your kid had a near-death experience and came back to life claiming to have seen heaven? Real-life couple Todd and Sonja Burpo found themselves in exactly that situation, after their four-year-old son Colton barely survived surgery. While the parents were initially unsure what to believe, they eventually came to trust their son's revelations, and in 2010 the father published the book Heaven Is For Real about the family's experience.
And now, in 2013, Sony has turned that book into a movie. Greg Kinnear and Kelly Reilly play the mom and dad, while newcomer Connor Corum plays their blessed son. Margo Martindale and Thomas Haden Church also star, and Randall Wallace (Secretariat) directs. Watch the new trailer after the jump.
Heaven Is For Real isn't supposed to be a horror movie, so it's a bit odd that the trailer is cut in some parts to look like one. Kids who see dead people abound in scary movies, and the first minute or so of the trailer really plays into those expectations. At that point, you could've told me it was the trailer for another Insidious sequel and I would have believed you.
Once the inspirational music kicks in, though, the trailer looks exactly like the sentimental, feel-good family movie it's trying to be. Heaven Is For Real is an overtly Christian movie, but it's not one of those low-budget ones that never make it outside the churchgoing crowd. It's aiming for mainstream appeal, and it's not a stretch to think that even some less devout families could find something comforting and sweet in this tale. Heaven Is For Real arrives just in time for Easter on April 16, 2014.
Based on the #1 New York Times best-selling book of the same name, HEAVEN IS FOR REAL brings to the screen the true story of a small-town father who must find the courage and conviction to share his son's extraordinary, life-changing experience with the world.
The film stars Academy Award® nominee and Emmy® award winning actor Greg Kinnear as Todd Burpo and co-stars Kelly Reilly as Sonja Burpo, the real-life couple whose son Colton (newcomer Connor Corum) claims to have visited Heaven during a near death experience. Colton recounts the details of his amazing journey with childlike innocence and speaks matter-of-factly about things that happened before his birth ... things he couldn't possibly know. Todd and his family are then challenged to examine the meaning from this remarkable event.