Jack Black And Tim Robbins Head To 'The Brink' For HBO And Jay Roach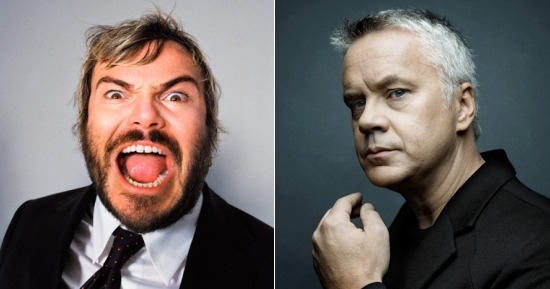 After chronicling the 2000 Bush-Gore debacle with 2008's Recount and John McCain's failed 2008 presidential run with last year's Game Change, Jay Roach is once again diving into the world of politics for HBO. But this time, the crisis being depicted is totally fictional.
Roach has just cast Jack Black and Tim Robbins in the HBO comedy pilot The Brink, about three "disparate and desperate" men facing the possibility of World War III. More plot details after the jump.
Robbins will play U.S. Secretary of State Walter Hollander, described as "a man of big appetites and little patience for the war mongers in the Situation Room." Black has been cast as low-level foreign service officer Alex Coppins, who unwillingly gets caught up in the geopolitical mess. The third lead, that of top Navy fighter pilot Zeke Callahan, has not yet been cast.
Black has done several TV guest stints over the years, and he (along with bandmate Kyle Gass) led the brief HBO series Tenacious D in the late '90s. More recently, though, he's been known for big-screen work like Bernie, Gulliver's Travels, and Year One. He next appears in Jake Kasdan's Sex Tape and will return to voice Po for Kung Fu Panda 3.
Robbins also got his start doing TV guest spots, back in the '80s. While he's since established a much bigger career as a cinematic leading man, he's continued to crop up on the small screen from time to time, most recently on two episodes of Portlandia. He was last seen in the sex addiction dramedy Thanks for Sharing and will next star in the Jackie Brown sorta-prequel The Switch.
The pair have worked together several times in the past. Robbins directed Black in Bob Roberts, Dead Man Walking, and Cradle Will Rock, and the pair shared a bit of screentime in 2000's High Fidelity. In 2006, Robbins appeared in Tenacious D in The Pick of Destiny, which Black wrote, produced, and starred in.
[Source: Variety]