Sequel Bits: 'Anchorman 2', 'Transformers 4', 'Night At The Museum 3', 'Christmas In A Day'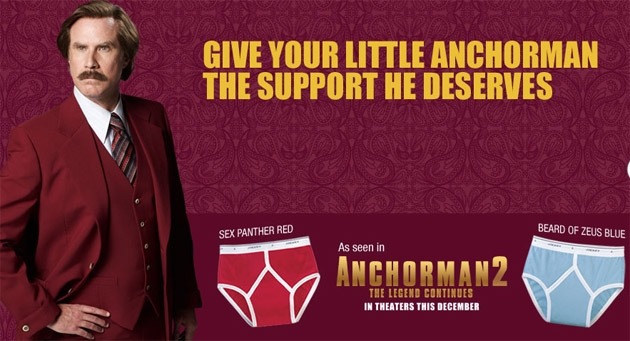 Ron Burgundy now has his own underwear line and his own museum exhibit. Also after the jump:
Night at the Museum 3 casts an Amazing Spider-Man actor
Kevin Macdonald's Christmas in a Day will follow Life in a Day
Mark Wahlberg reiterates that the new Transformers is "stand alone"
Composer Steve Jablonsky talks Transformers: Age of Extinction
The 17-year-old's credits include The Bill Engvall Show, 10 episodes of Psych, The Three Stooges, Walk Hard: The Dewey Cox Story, and Four Christmases. Night at the Museum 3 is scheduled to open Christmas Day 2014. [Deadline]
Speaking of the holidays, director Kevin Macdonald is preparing to dive into the U.K.'s Christmas traditions in a big way. As a follow-up to his documentary Life in a Day, Macdonald has put together a new movie called Christmas in a Day, which follows various Brits as they celebrate.
Like Life in a Day, Christmas in a Day consists of videos captured by ordinary people. Macdonald cut the movie together from over 360 hours of footage. "Christmas is the one time in the whole year when ordinary British life is suspended," said Macdonald. "We have time to contemplate life and be with those we love." The movie will launch on YouTube November 29. [Variety]
Mark Wahlberg has tried to keep things kind of vague with regards to Transformers: Age of Extinction, but one thing he's crystal-clear on is that the new movie is a whole new thing. "It's a completely different stand-alone movie," he reiterated in a recent interview. "It takes place after the third one, after the battle of Chicago. It's definitely its own story."
Wahlberg continued, "I think it's very different and fresh and people are going to really enjoy it. I had a blast making it. And you're going to see things in this particular movie that you haven't seen in the other movies." Well, let's hope so. [Access Hollywood via TFW2005]
But as "different" and "fresh" as Transformers: Age Extinction is, one thing that won't have changed is the man behind the music. Steve Jablonsky is once again serving as composer, having worked on the three previous films. Though even he says he's trying to mix things up.
I think with each Transformers film he's [Michael Bay] wanted something different and he's always had this kind of specific theme where he'll really want something special so he gives me these goals to reach, "this needs to be really emotional", "this needs to be really kick ass", and he always gives me new challenges. With Transformers 4 I haven't had that many conversations with him, but I get the feeling that he wants something wildly different. Having said that we might use some of the old themes, though I'm not sure because it's Mark Wahlberg now and a whole different cast, so we might just do something very different. The bottom line is Michael is paying me to make his films better. Whatever ideas he's got, I'm going to listen to them, and fortunately he's got these great ideas.
I fully expect on Transformers 4 whatever we do he's going to want something wild and to go down some road where we use some crazy instruments or something. I don't know yet, we'll see what happens but he's very adventurous in his creative process so I've learned that from him I think. He loves electronic stuff mixed in and that's really where I got a lot of experience and now it's part of my sound, I guess, because I get asked to do it a lot. I record a lot of things and then manipulate them in my computer and I really enjoy doing that that – combining it with the orchestra to make something new – and he loves that sort of thing, hearing sounds he's never heard before."
The very new, very different, nothing-at-all-like-the-previous-movies Transformers: Age of Extinction is scheduled to open June 27, 2014. [Go See Talk via TFW2005]
If you're a true Channel 4 devotee, surely you're sitting in your Dodge Durango as we speak, enjoying a pint of Ben & Jerry's Scotchy Scotch Scotch on your way to pick up a copy of Ron Burgundy's Let Me Off at the Top!: My Classy Life and Other Musings. But if you want to become even more like your idols, you'll want to make sure you're wearing the right underwear, as well.
Anchorman 2: The Legend Continues has teamed up with Jockey for limited-edition briefs, available in "Beard of Zeus Blue" and "Sex Panther Red." They cost $18 through the Jockey website, which is pretty cheap considering they're made with "the stuff legends are made of."
The underwear was reportedly inspired by an Anchorman 2 plotline in which Brian Fantana (Paul Rudd) ends up in an underwear ad. Paramount called up Jockey to try and procure some pairs to use for the scene, and the pair ultimately decided to join forces and sell the briefs for real.
The low-rise, Y-front style should do a great job of keeping your "little anchorman" comfortable, which'll be especially useful whenever you set out on your road trip to Washington, D.C.'s Newseum.
The institution has debuted a new exhibit devoted Ron and company, featuring such props as his "I'M #1" license plate, his jazz flute, his mustache brush, and Brian's Sex Panther cologne, along with the costumes worn by various characters throughout the movie.
Also part of the exhibit is a replica of the Channel 4 news desk, behind which visitors can get their picture taken. And some stuff about actual real-life anchors of the time, if you can stop giggling at the Anchorman-related props long enough to pay attention. The exhibit will remain open through August 31, 2014. Watch a video preview below:
Visit NBCNews.com for breaking news, world news, and news about the economy
Anchorman 2: The Legend Continues opens December 20. [Screen Crush, THR]