'Out Of The Furnace' TV Spot: You Don't Want To Mess With Woody Harrelson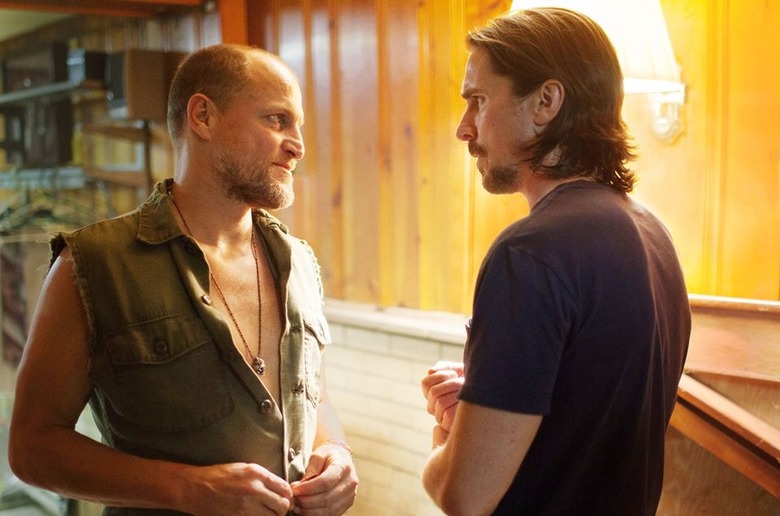 Woody Harrelson's last feature role was as a time-traveling turkey in the animated family flick Free Birds, but don't let that trick you into thinking he's lost his edge. The new TV spot for Scott Cooper's Out of the Furnace has arrived, and he's full-on terrifying in it.
The gritty drama stars Christian Bale as Russell, a steel mill worker whose Iraq vet brother Rodney (Casey Affleck) falls into the criminal underworld and eventually disappears. When the police fail to find Rodney, Russell sets out to discover the truth for himself. Check out the new video after the jump.
Out of the Furnace just premiered at AFI to solid, if not quite glowing, reviews. Cooper's already demonstrated a knack for drawing out fine performances — his debut feature, Crazy Heart, earned an Oscar for Jeff Bridges and a nomination for Maggie Gyllenhaal, and with a cast as strong as this one we can be sure he'll deliver again.
THR called the film "well-wrought," "rather prosaic," and "well-acted," and Variety wrote that it was "graced by the same lyrical sense of worn-down American lives" as Cooper's previous film. On the slightly less positive side, The Playlist complained that the movie "concerns itself more with creating a complexity rather than letting its characters show us one," and Film School Rejects found that it "never feels fully realized."
Out of the Furnace opens December 6.
From Scott Cooper, the critically-acclaimed writer and director of Crazy Heart, comes a gripping and gritty drama about family, fate, circumstance, and justice. Russell Baze (Christian Bale) has a rough life: he works a dead-end blue collar job at the local steel mill by day, and cares for his terminally ill father by night. When Russell's brother Rodney (Casey Affleck) returns home from serving time in Iraq, he gets lured into one of the most ruthless crime rings in the Northeast and mysteriously disappears. The police fail to crack the case, so – with nothing left to lose – Russell takes matters into his own hands, putting his life on the line to seek justice for his brother. The impressive cast of Christian Bale and Woody Harrelson are rounded out by Casey Affleck, Forest Whitaker, Willem Dafoe, Zoe Saldana and Sam Shepard.