'Some Velvet Morning' Trailer: Stanley Tucci And Alice Eve Spar For Neil LaBute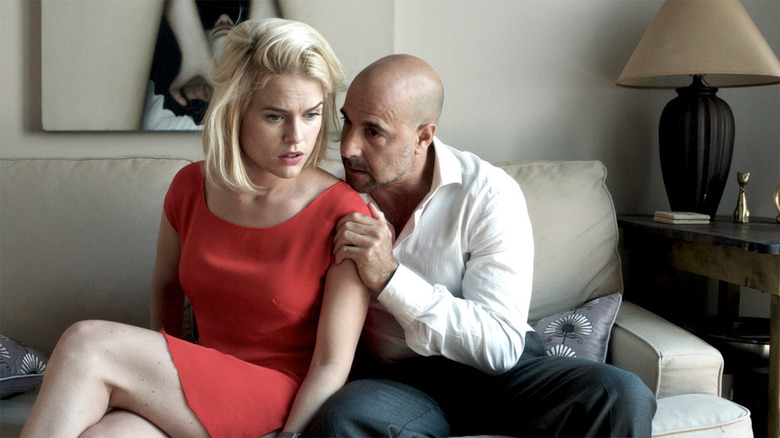 There are some movie romances which are so swooningly sweet, they can make even the most jaded pragmatist believe in true love. And then there are movie romances so acrid, they can inspire even a happily coupled-up moviegoer to swear off love forever.
Some Velvet Morning seems to fall into the latter category, which shouldn't come as a huge shock seeing as it was written and directed by In the Company of Men helmer Neil LaBute. Stanley Tucci and Alice Eve play two former lovers who come back into contact when he shows up on her doorstep years after their affair ended, declaring that he's finally left his wife for her. Hit the jump to watch the trailer.
The intimate two-hander debuted at the Tribeca Film Festival earlier this year, to mostly positive reviews. It seems to be a challenging film to like, since it's pretty much the opposite of a feel-good movie, but that didn't stop admirers from piling on the compliments anyway.
Film.com called it "a horror film with no blood" and professed to being "in awe" of it, while The Playlist, in an A- review, praised it as "unsettling and unforgettable." THR was less enamored, complaining that "while Some Velvet Morning might have made for a very effective theatrical one-act play, it lacks the dramatic heft to justify its big-screen running time."Some Velvet Morning hits VOD December 10 before rolling into theaters starting December 13. Keep an eye on the official website for local release details.
Fred (Stanley Tucci) arrives at the doorstep of his beautiful young mistress Velvet (Alice Eve) after four years apart, claiming to have finally left his wife. But when she rejects his attempts to rekindle their romance, his persistence evolves into obsession — and a dark history between the former lovers comes into focus. A return to form for writer/director Neil LaBute (In the Company of Men, Your Friends & Neighbors), Some Velvet Morning is an astutely written portrait of a very modern romance.