'The Hobbit' Featurette Explores Beorn's Gigantic House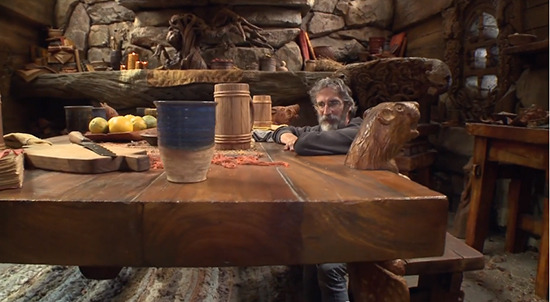 One of the characters set to debut in Peter Jackson's The Hobbit: The Desolation of Smaug is Beorn, a man who is sometimes a bear (or a bear who is sometimes a man). Beorn is gigantic, and accordingly, he has a home that is of such a size that normal human men look like hobbits when sitting at his table. That's illustrator and designer John Howe at the table, above.
To shoot the film, Jackson's crew built the entire outsized home, complete with gigantic furniture and props, so that the characters would look appropriately small in Beorn's surroundings. A new featurette shows off the house, and as is the case with so many of the behind the scenes videos for Jackson's tour of Middle-Earth, is a good way to spend a few minutes. 
The Hobbit: The Desolation of Smaug opens on December 13.
The second in a trilogy of films adapting the enduringly popular masterpiece The Hobbit, by J.R.R. Tolkien, "The Hobbit: The Desolation of Smaug" continues the adventure of the title character Bilbo Baggins (Martin Freeman) as he journeys with the Wizard Gandalf (Ian McKellen) and thirteen Dwarves, led by Thorin Oakenshield (Richard Armitage) on an epic quest to reclaim the lost Dwarf Kingdom of Erebor.