See How Apple And Jake Scott Used iPhones To Shoot A Commercial Around The World In One Day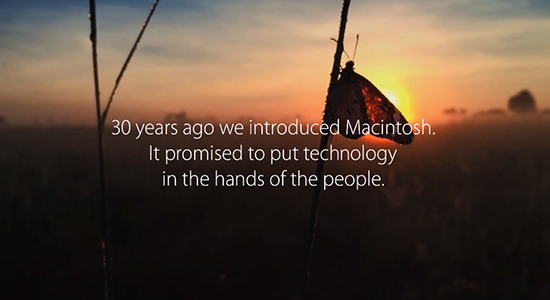 Apple Computer can lay claim to having bankrolled one of the most famous Super Bowl spots in history. The '1984' ad that launched the original Macintosh is the sort of thing Adweek refers to with phrases like "as good as it gets." This past weekend marked the 30th anniversary of the spot's debut, so naturally Apple was expected to follow up with... something.
(Or, this weekend's Super Bowl was close enough to the 30th anniversary, as '1984' actually premiered in at least one marked in December '83, and went wide in January '84 during the Super Bowl.)
But Apple did not buy Super Bowl air time, because who needs such a thing when you're Apple? The company instead dropped a long spot online. '1.24.14' captures images during a 36-hour span in geographic regions starting in Melbourne, Australia and moving west through more than a dozen other locations to Seattle, all the while showing the neat stuff people do with Apple products. The spot is directed by Jake Scott, son of Ridley (who directed '1984'), and created by a team of fifteen crews placed around the globe and synced to Scott's command center via data cables and FaceTime calls.
Below, watch a behind the scenes video that shows how you can create a great commercial with iPhones and an effective lack of a budget ceiling.
First, here's the spot for those who hadn't seen it:
And now the "making-of." As Variety points out, more than 70 hours of footage were captured for this spot, all edited on (duh) Apple systems in LA. Angus Wall, with a team of 21 editors (!!!), cut the spot.
One quote is pretty funny: "We picked the iPhone because it is spontaneous," which made me laugh here because organizing fifteen well-equipped crews across the globe is anything but spontaneous. The quote sounds great, but in this context is completely ludicrous. Anyway, that command center looks neat, and working on this spot was probably a blast.