'Horrible Bosses 2' Plot Features A Bit Of Role Reversal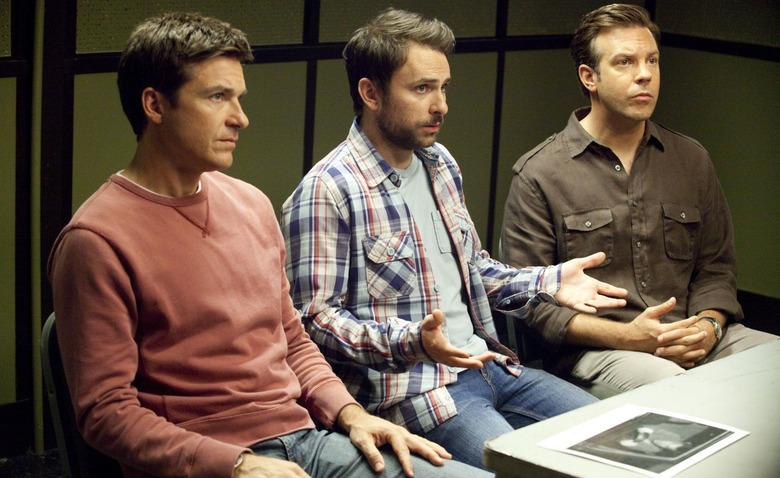 The original cast of Horrible Bosses – Jason Bateman, Charlie Day, Jason Sudeikis, Jennifer Aniston, Jamie Foxx, and Kevin Spacey — are now at work bringing their original roles back to life in Horrible Bosses 2. Chris Pine and Christoph Waltz are also on board, playing "new adversaries standing between the guys and their dreams of success."
What are those dreams of success, exactly? They involve what can only be called a giant paradigm shift for these losers.
Here's the story — since this is official studio copy, this will all be in the trailer eventually, so no spoiler worries should be entertained.
Fed up with answering to higher-ups, Nick, Dale and Kurt decide to become their own bosses by launching their own business in "Horrible Bosses 2." But a slick investor soon pulls the rug out from under them. Outplayed and desperate, and with no legal recourse, the three would-be entrepreneurs hatch a misguided plan to kidnap the investor's adult son and ransom him to regain control of their company.
I like the idea of the three guys trying to keep Chris Pine corralled in a crappy kidnapped attempt — that can't go well. (Though I also wonder if this one will follow the pattern set by the first movie, which turned the attractive Colin Farrell into a skeevy combover jerk. Is Pine going to be made to look similarly lame? And if so, will he also be less than the super-confident and competent guy we've seen him play so far?)
Sean Anders is directing; Anders & John Morris (We're the Millers) and John Francis Daley & Jonathan Goldstein (Cloudy with a Chance of Meatballs 2), the latter pair having written the first film, scripted.