'Oldboy' Trailer: Spot The Digitally-Covered Butt Shot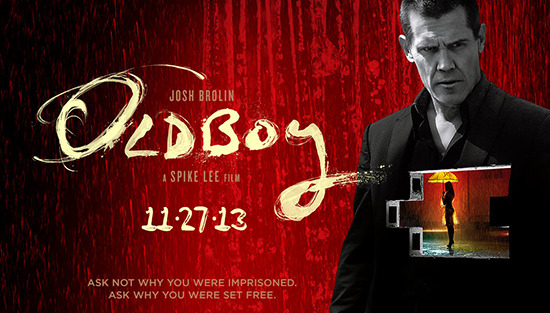 I got a press release earlier today that describes the new Spike Lee film, Oldboy, as "a unique reinterpretation of the 2003 Korean film," with that '03 movie being the Park Chan-wook effort that turned the director into a globally-popular filmmaker. That's a slightly new way to position a remake.
We've seen so many clips, violent glimpses, and featurettes for the film that a new trailer feels like it is coming in very late. And, in fact, this "new" trailer is basically the red-band one that landed over the summer, with a few changes to make it suitable for all audiences.  A couple bits of explicit violence are gone, as are two or three butt shots. In fact, one butt shot from the original trailer has been digitally altered for this one. Look for it below!
In a related note, a recent LA Times interview with Josh Brolin had the actor hedging away from expressing total support for the theatrical cut:
...the movie possesses a dark baroque quality that will likely alienate some critics and even seems to have elicited a mixed reaction in Brolin. 'I do have opinions, but it's better to bite my tongue,' he said when asked what he thought of the finished film. (The actor says he was more enamored with Lee's earlier three-hour director's cut that was both quieter and filled with more character-centric moments.)
Apple has the trailer. Oldboy opens on November 27.
OLDBOY follows the story of Joe Doucette, a man who is abruptly kidnapped and held hostage for 20 years in solitary confinement, for no apparent reason. When he is suddenly released without explanation, he begins an obsessive mission to find out who imprisoned him, only to discover that the real mystery is why he was set free.