Rumored 'Star Wars Episode VII' Casting Sheet Suggests Main Characters Not Skywalkers Or Solos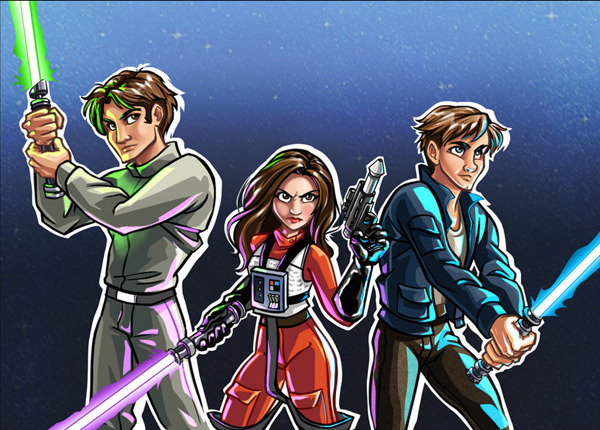 If true, the latest Star Wars Episode VII rumor blows the lid off everything we expected the sequels to be. Though co-writer and producer Lawrence Kasdan has long said the new films won't follow any stories from the Extended Universe, almost everyone assumed the main characters — all believed to be young adults — would somehow be related to the Skywalker and Solo families. They'd have to be, considering Luke Skywalker and Princess Leia, who finished the series dating Han Solo, were the last two Jedi in the universe. Any future Jedi would surely be directly related.
That might not be the case. An open Disney casting call is happening this month in the United Kingdom and multiple websites, including the BBC, are reporting it is 100% for Star Wars. The casting sheet lists two roles, one of which is an orphaned female and the other is fatherless male. If those are main characters, they are not likely related to the Skywalkers or Solos.
JediNews first reported on the casting sheet (found on Twitter here) and then Bleeding Cool confirmed the sheet was related to Star Wars. The BBC is also reporting it's a Star Wars casting call and got an official no comment from Lucasfilm.
Here's the sheet.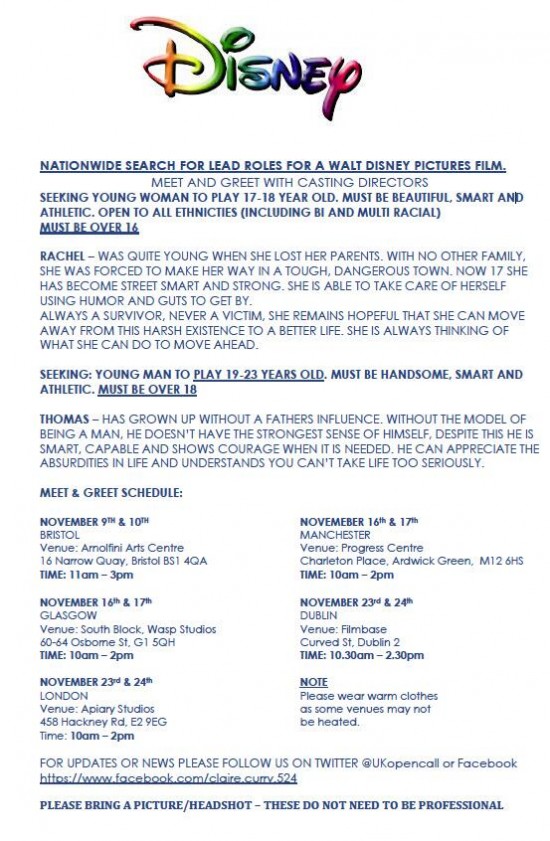 Remember this sheet is purposefully vague so the names and references to "towns" and stuff could be anything.
Rachel is described as "quite young when she lost her parents. With no other family, she was forced to make her way in a tough, dangerous town. Now 17 she has become street smart and strong. She is able to take care of herself using humor and guts to get by. Always a survivor, never a victim, she remains hopeful that she can move away from this harsh existence to a better life. She is always thinking of what she can do to move ahead."
Then there's Thomas, described as having "grown up without a father's influence. Without the model of being a man, he doesn't have the strongest sense of himself. Despite this he smart, capable and shows courage when it is needed. He can appreciate the absurdities in life and understands you can't take life too seriously."
As you can see, the casting sheet says both roles are leads, so let's break this down. If we are to believe both Mark Hamill and Harrison Ford are in this film, whether one or both of them have kids, neither Rachel or Thomas could be related. Neither has a father. Plus, considering the characters are each around 18 years old, they couldn't be directly related to anyone older (Obi-Wan Kenobi, Mace Windu, etc.) So these two characters are not Skywalkers, Organas or Solos.
However, don't forget this film is called Star Wars Episode VII. The seventh chapter in an ongoing story, and that story is of the Skywalker bloodline. Luke Skywalker also thought his father was dead,when we first met him, and Leia wasn't the biological child of the people she thought to be her parents. Who knows what will be revealed about these characters later on.
That said,  one conclusion is  these two leads are the friends of an already-cast Skywalker or Solo child. Maybe they even go to Jedi Academy together. The original film did follow a trio of "unrelated" heroes, right? It wasn't until later we found out their true relationships.
What do you think? Will J.J. Abrams make a Star Wars movie with the Skywalkers and Solos as secondary characters?