Cool Stuff: Mondo Poster For 'Gravity' By Kevin Tong; Plus His Process Video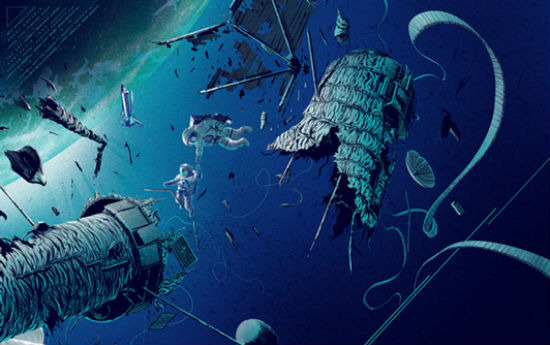 Alfonso Cuaron's Gravity has quickly become one of the biggest blockbusters of the year. At $219 million and counting, with a full awards season run likely, the 3D space thriller has firmly planted itself in popular culture both for this year and years to come. It makes sense, then, that the evil geniuses at Mondo have created an officially licensed poster for the film. And for art fans, the fact it was done by technical master Kevin Tong is even less of a surprise. Check out the full poster below along with a process video.
Here's Kevin Tong's poster for Gravity. It's just one poster, but Tong designed it to work with the art at the top or bottom, however you want to hang it.
And here's a video of Tong creating the poster.
This video details the start to finish process of creating an OFFICIAL, limited edition, screen printed poster for "Gravity", arguably the best movies of 2013. To emulate the dizzying effect of the movie, I deliberately designed this poster to have no true orientation i.e. there's no right side up or down, it can be presented either way.
Gravity is a 24 x 36 inch screenprint in an edition of 375. It costs $45 and will be on sale at a random time Tuesday November 5 by following @MondoNews.
Also, with a new Marvel movie coming out this week, don't be surprised if we see another big Mondo poster later this week.