Larry Charles Directing 'A Walk In The Woods' With Robert Redford And Nick Nolte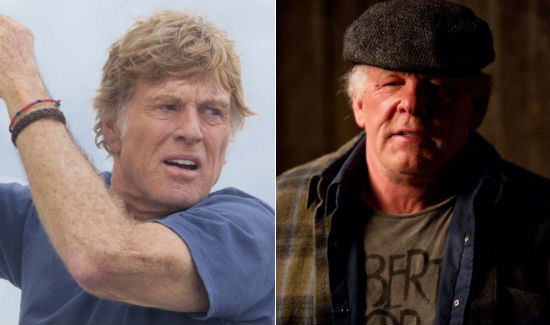 We may receive a commission on purchases made from links.
The director of Borat and former writer of Star Wars Episode VII are teaming up to bring Robert Redford and Nick Nolte into nature. Larry Charles (Borat, Seinfeld) will direct A Walk in the Woods, based on the memoir by Bill Bryson. Michael Arndt (Little Miss Sunshine) adapted the screenplay which follows a travel writer (Redford) who decides to hike the Appalachian Trail with a former high-school friend (Nolte).
Deadline broke the news of the film and got the following statement from Charles:
Growing up in the wilds of Brooklyn, you can see why I was the natural choice to direct A Walk In The Woods. I didn't see a tree till I was 27. I've pitched a lot of projects, but I've never pitched a tent. But A Walk In The Woods is not merely about a hike. It is an epic, intense, absurd journey through our collective past, present and future. A journey outward and inward. A journey into darkness but also into the light. And I am honored and humbled to take that walk with Robert Redford and Nick Nolte. Two true bonafide icons of American cinema. Does anyone have bug spray?
Here is the Publisher's Weekly review of the book, which was a national best-seller:
Returning to the U.S. after 20 years in England, Iowa native Bryson decided to reconnect with his mother country by hiking the length of the 2100-mile Appalachian Trail. Awed by merely the camping section of his local sporting goods store, he nevertheless plunges into the wilderness and emerges with a consistently comical account of a neophyte woodsman learning hard lessons about self-reliance. Bryson (The Lost Continent) carries himself in an irresistibly bewildered manner, accepting each new calamity with wonder and hilarity. He reviews the characters of the AT (as the trail is called), from a pack of incompetent Boy Scouts to a perpetually lost geezer named Chicken John. Most amusing is his cranky, crude and inestimable companion, Katz, a reformed substance abuser who once had single-handedly "become, in effect, Iowa's drug culture." The uneasy but always entertaining relationship between Bryson and Katz keeps their walk interesting, even during the flat stretches. Bryson completes the trail as planned, and he records the misadventure with insight and elegance. He is a popular author in Britain and his impeccably graceful and witty style deserves a large American audience as well.
At first, the decision to have Charles direct a film about two men walking in the woods seems odd, but from those quotes you get the idea the story is much funnier than it is dramatic. Then it makes perfect sense.