First Look: Angelina Jolie Heads To Sea For WWII Survival Drama 'Unbroken'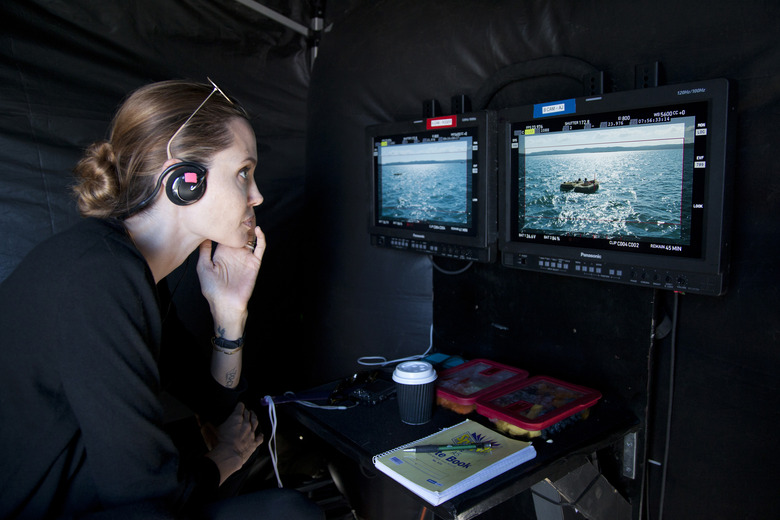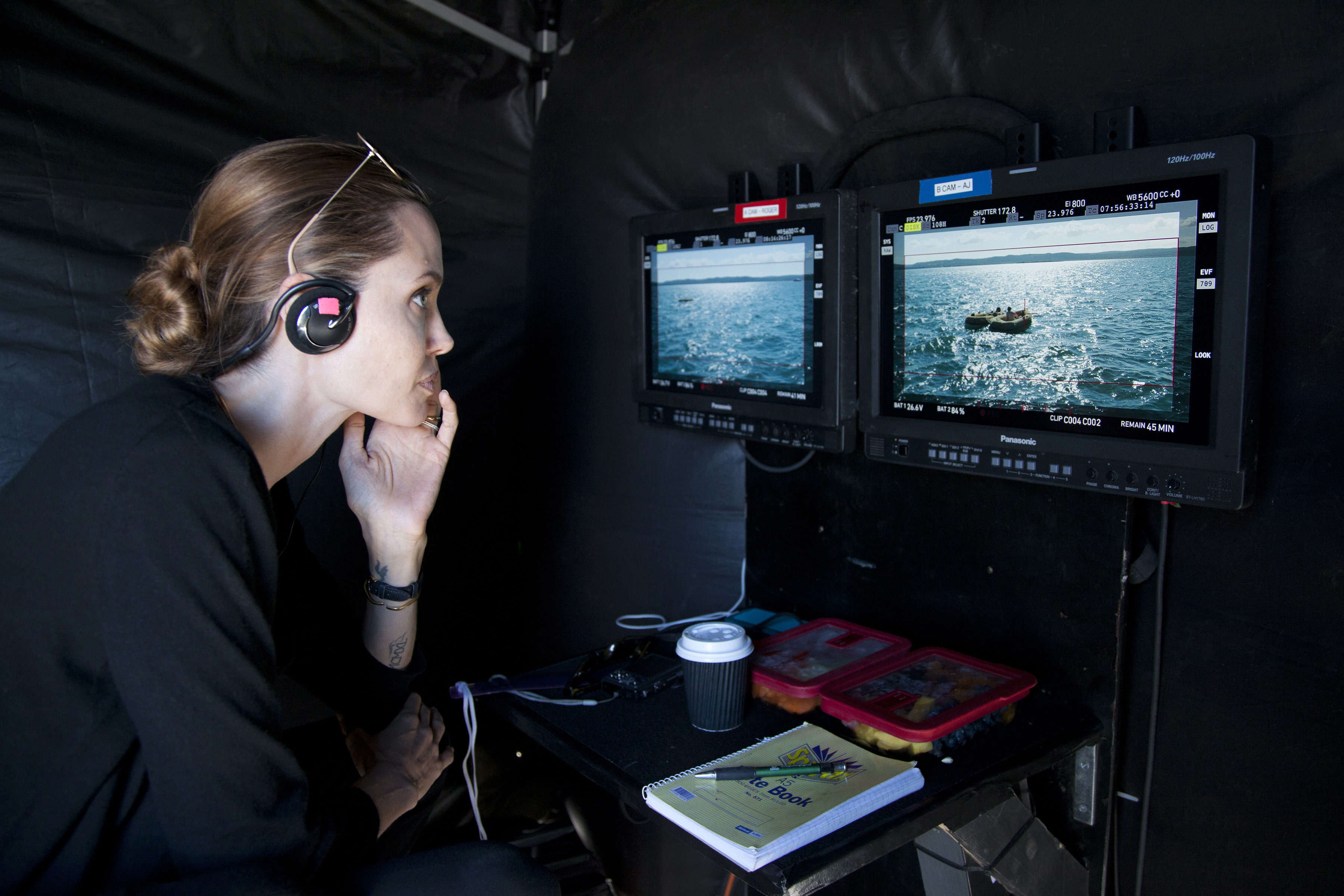 Our first look at Angelina Jolie's sophomore directorial effort Unbroken wasn't really a first look at the film, but a lovely photo of her with its real-life subject Louis Zamperini. But now that production is actually underway, Universal has some more movie-centric pics to offer.
The latest set photos from the survival epic show Jolie on the watery Australian set with her cast and crew, including stars Jack O'Connell, Domnhall Gleeson, and Finn Wittrock. They seem to be hard at work, though of course nothing they're going through could possibly compare to the tribulations Zamperini and his comrades endured. Hit the jump to get a peek.
He miraculously survived that ordeal, only to be captured by as a prisoner of war the moment he washed ashore in Japan. He spent two years in captivity, tortured by cruel guards. Gleeson and Wittrock play Zamperini's military comrades, Phil and Mac. Garrett Hedlund, Alex Russell, John Magaro, and Miyavi also star, though none of them are seen in the pictures below.
Unbroken has quite a lot of talent behind it, even aside from the folks you see here. Roger Deakins is serving as the director of photography, and Richard LaGravenese, William Nicholson, and Joel and Ethan Coen worked on the script. The source material was the biography Unbroken: A World War II Story of Survival, Resilience, and Redemption, from Seabiscuit author Laura Hillenbrand. The film opens December 25, 2014.
Here's the latest synopsis from Universal:
Academy Award® winner Angelina Jolie directs and produces Unbroken, an epic drama that follows the incredible life of Olympian and war hero Louis "Louie" Zamperini (Jack O'Connell) who, along with two other crewmen, survived in a raft for 47 days after a near-fatal plane crash in WWII—only to be caught by the Japanese Navy and sent to a prisoner-of-war camp.
Director Jolie began shooting some of the most dramatic and challenging scenes on Wednesday, October 16, on location far out at sea in Moreton Bay, Australia, with Zamperini (O'Connell) and his fellow airmen—Phil (Domhnall Gleeson) and Mac (Finn Wittrock)—having impossibly survived being adrift in the open Pacific for several weeks.
Working with cameras on a floating rig in choppy waters and braving the elements, with actors dieting for months to appear as depleted as their characters, Jolie completed a successful first day of a location shoot that promises to be rigorous and uniquely challenging.
Adapted from Laura Hillenbrand's ("Seabiscuit: An American Legend") enormously popular book, Unbroken brings to the big screen Zamperini's unbelievable and inspiring true story about the resilient power of the human spirit.
Starring alongside O'Connell, Gleeson and Wittrock are Garrett Hedlund and John Magaro as fellow POWs who find an unexpected camaraderie during their internment, Alex Russell as Zamperini's brother, Pete, and in his English-language feature debut, Japanese actor Miyavi as the brutal camp guard known only to the men as "The Bird."
The film is produced by Jolie, as well as Matthew Baer (City by the Sea), Erwin Stoff (The Day the Earth Stood Still) and Clayton Townsend (This Is 40). Leading the accomplished behind-the-scenes crew is 10-time Oscar®-nominated cinematographer Roger Deakins (Skyfall).
Academy Award® winners Joel and Ethan Coen (No Country for Old Men) rewrote the screenplay from earlier drafts by William Nicholson (Les Misérables) and Richard LaGravenese (HBO's Behind the Candelabra).
Unbroken arrives in theaters on Christmas Day, 2014.