CBS Working On 'How I Met Your Mother' Spinoff 'How I Met Your Father'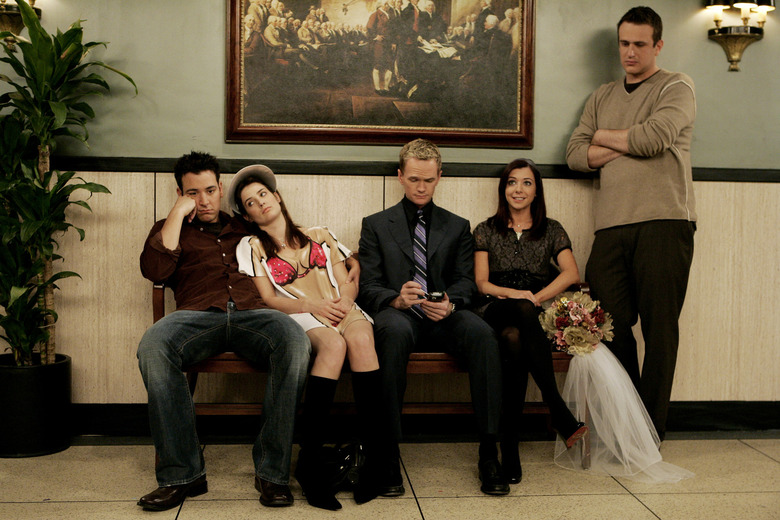 Frankly, I'm glad How I Met Your Mother is ending with the current season. It's already spent far too much time spinning its wheels, and while I still enjoy checking in with the gang from week to week, the show definitely isn't as fresh or funny as it once was. But CBS, unsurprisingly, isn't quite ready to let it go.
The network is now in talks with 20th Century Fox TV for a lady-centric spinoff unofficially entitled How I Met Your Father. How I Met Your Mother creators Carter Bays and Craig Thomas are developing the concept with Emily Spivey, best known as the creator of NBC's short-lived Up All Night. Get plot details and more after the jump.
There's no deal in place just yet, although the network has heard the pitch and is in active discussions with the studio. That CBS wants to keep the franchise going isn't a surprise. Now in its ninth season, the comedy remains CBS' second highest rated series, after the juggernaut The Big Bang Theory. The last episode attracted 7.64 million viewers — roughly as much as the latest episodes of New Girl and Parks & Recreation combined.
Bays and Thomas' last attempt to launch a comedy was The Goodwin Games, a midseason Fox comedy that fizzled after just seven episodes. Previously, they produced and wrote for American Dad!, Quintuplets, and Oliver Beene. Spivey has worked on Saturday Night Live, MADtv, King of the Hill, and Parks & Recreation.