'The Lego Movie' Teasers Introduce Emmet, Batman, And More; New Trailer Out Thursday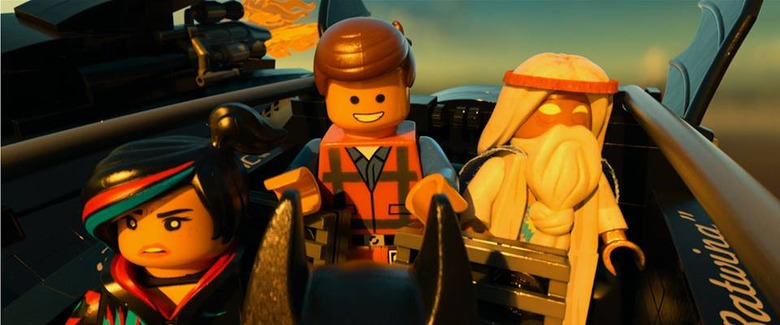 Even if you're too old for trick-or-treating, you can count on getting at least one shiny new treat tomorrow. Warner Bros. has announced that they will release the second trailer for Phil Lord and Chris Miller's The Lego Movie on Thursday, October 31, to follow up that delightful first trailer we got back in June.
And to prepare for that new promo, the marketing team has revealed five brief new teasers based on some of the film's central characters: good guy Emmet (Chris Pratt), kickass Wyldstyle (Elizabeth Banks), villainous President Business (Will Ferrell), pirate-y Metalbeard (Nick Offerman), and competitive Batman (Will Ferrell). Check 'em out after the jump.
Here's Emmet, the unassuming protagonist who gets sucked into a grand adventure:
Meet Wyldstle, the tough, fiercely independent Master Builder who pulls Emmet into said adventure:
Ferrell plays President Business, the totalitarian leader trying to take over the world:
Here's Metalbeard, described by Warner Bros. as "half pirate, half utility knife, with a knack for doing things the hard way":
Incidentally, I love that this means Ron Swanson and Andy Dwyer are making a movie together.
Moving on, meet Batman, who seems to be starring in a miniature, plastic Batman vs. Superman movie of his own:
The Lego Movie opens February 7, 2014. Alison Brie, Charlie Day, Liam Neeson, and Morgan Freeman also star, but don't get their own character-centric teasers. (Yet.)
The original 3D computer animated story follows Emmet, an ordinary, rules-following, perfectly average LEGO minifigure who is mistakenly identified as the most extraordinary person and the key to saving the world. He is drafted into a fellowship of strangers on an epic quest to stop an evil tyrant, a journey for which Emmet is hopelessly and hilariously underprepared.