'Open Grave' Trailer: Sharlto Copley Doesn't Know Why He's In That Mass Grave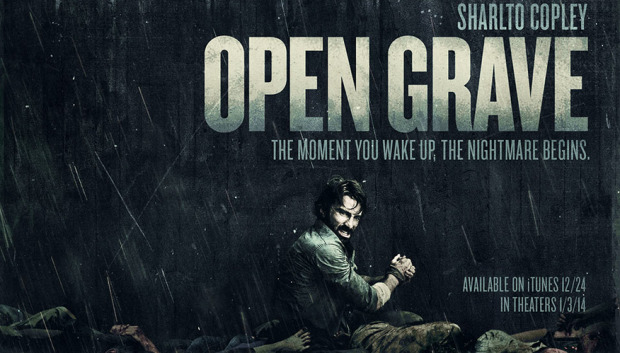 Shalrto Copley wakes up in a grave, which is good — better to be alive than dead. But that may be the only good thing happening to the guy, as it is a mass grave filled with other bodies, and nearby is a house full of suspicious people who don't remember how they came to be there. Copley joins them, and suspicion and paranoia gives way to true horror as everyone starts to figure out what's really going on, and then things get really weird.
The film is directed by Gonzalo López-Gallego, who made Apollo 18, and this looks like a big step forward from that found-footage movie. Check out a trailer below.
Open Grave also stars Thomas Kretschmann, Josie Ho, Joseph Morgan, Erin Richards and Max Wrottesley. It will hit VOD on December 24, and open in theaters on January 3, 2014. [via The Film Stage]
A man (Sharlto Copley, DISTRICT 9, ELYSIUM) wakes up in a pit of dead bodies with no memory of who he is or how he got there. Fleeing the scene, he breaks into a nearby house and is met at gunpoint by a group of terrified strangers, all suffering from memory loss. Suspicion gives way to violence as the group starts to piece together clues about their identities, but when they uncover a threat that's more vicious—and hungry—than each other, they are forced to figure out what brought them all together—before it's too late.