'Highlander' Reboot To Be Directed By 'Snow White And The Huntsman' Effects Supervisor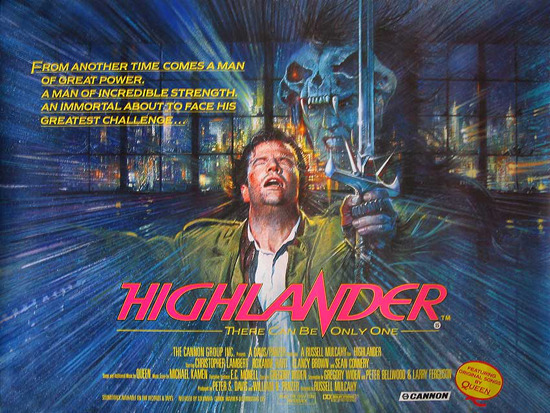 The Highlander reboot has a new person calling the shots. After a revolving door of director attachments, Summit has set Snow White and the Huntsman second unit director and visual effects supervisor Cedric Nicolas-Troyan to direct the film. He'll shoot the script from Art Marcum and Matt Holloway that reportedly keeps pretty true to the original film.
Which means that we'll see Scottish highlander Conor McLeod discover his immortality, and be trained in combat and survival skills by Ramirez. He'll kill other immortals (by severing their heads), battling to a showdown with one last brutal survivor for a sort of all-knowing and influential existence referred to simple as "The Prize."
That said, the director will do an extra pass on the script, and as a fan of the TV show spawned by the film will add a few elements of that story into the movie.
The idea is to get the script done quickly so a cast can be assembled to shoot in 2014. There's a chance that a slightly lesser-known European talent will be sought to play the lead role, to echo casting Christopher Lambert in the original. Ryan Reynolds, once attached to play the lead, is long gone.
Nicolas-Troyan told Deadline,
I have been working on my pitch for this since the summer, and when I got there I met the original producer and I just started geeking out and he loved it. The first movie came out when I was a teenager in France and it was one of my favorite films of those years. I loved the series also, they shot a lot of it in France, on the Seine River. My first reaction, like everybody else, was, really, do we need a remake? Then I read the script, and I thought about how Russell Mulcahy was this super visual video director who brought the pulse of the 80s to the film so well. I started thinking about taking those great characters and matching them with a modern, visceral take, and then I was in love with the idea and I just went for it.
To me, this is more interesting than some of the other names that have been attached to Highlander. This is a weird story, and can be a weird movie, and the idea of someone using it as a platform to make their mark as a feature director seems more appealing than of a more established director using it as just hired hand gig. (That said, Justin Lin, who was attached for some time, remains an exec producer.)