'Planes: Fire And Rescue' Teaser Trailer: Dusty Goes From Racing To Rescue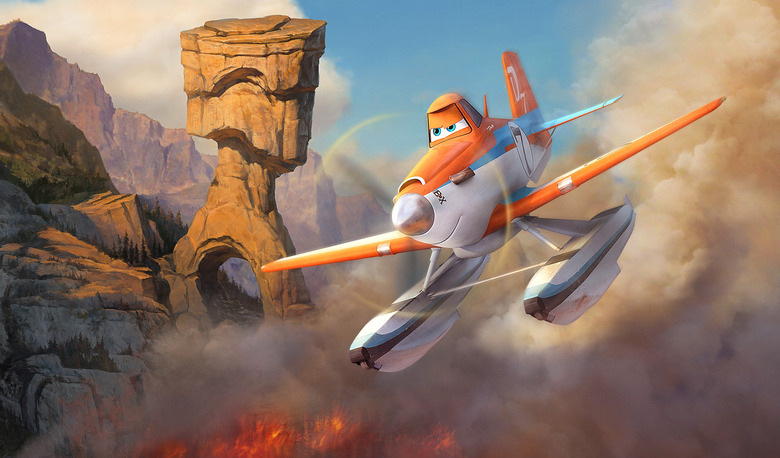 In terms of classic Disney storytelling, I felt this summer's animated film Planes was super solid. Sure it was predictable and a bit cheesy, but the Cars spinoff created by DisneyToons had all the energy, pacing and excitement you'd expect from your standard animated Disney film. To say that sentiment was not shared by my colleagues would be an understatement, however. Planes currently sits at 27% on Rotten Tomatoes. Still, audiences turned out, the film grossed almost $90 million domestic and the sequel, Planes: Fire and Rescue, was announced for a Summer 2014 release.
We saw some very cool footage from the sequel at the D23 Expo and now, thanks to teaser trailer, you can get your first glimpse too. Check it out below.
Thanks to Moviefone for the trailer.
As an actual Planes fan, the one thing I'm worried about is taking the sports movie structure away from this will make it less entertaining. The trailer actually looks pretty fun, but, that first film structure is like story training wheels. It's hard to mess up. We'll see more soon.
You can read more about the footage in the trailer at this link, which details what audiences saw at the D23 Expo.
Here's the official release on Planes: Fire and Rescue:
"Planes: Fire & Rescue" features a quirky crew of elite firefighting aircraft devoted to protecting historic Piston Peak National Park from a raging wildfire. When world famous air racer Dusty (voice of Dane Cook) learns that his engine is damaged and he may never race again, he must shift gears and is launched into the world of wildfire air attack. Dusty joins forces with veteran fire and rescue helicopter Blade Ranger and his courageous air attack team, including spirited super scooper Lil' Dipper (voice of Julie Bowen), heavy-lift helicopter Windlifter, ex-military transport Cabbie and a lively bunch of brave all-terrain vehicles known as The Smokejumpers. Together, the fearless team battles a massive wildfire, and Dusty learns what it takes to become a true hero. "Planes: Fire & Rescue" ignites July 18, 2014.