Alamo Drafthouse Takes Fantastic Fest 2013 On Tour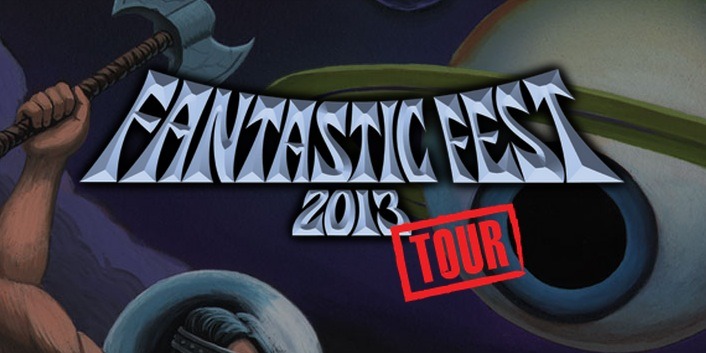 The Alamo Drafthouse have announced they will be taking Austin's Fantastic Fest on tour, showing movies from the festival at all Alamo Drafthouse markets over three weekends in November. Films include Big Bad Wolves, Borgman, Cheap Thrills, Confession of Murder, The Congress, Grand Piano, Journey to the West: Conquering The Demons, and Why Don't You Play In Hell. Tickets are now available on the Alamo website. After the jump you can learn more and read the press release announcement.
****FOR IMMEDIATE RELEASE****
FANTASTIC FEST ANNOUNCES THE 2013 FANTASTIC FEST TOUR
Austin, TX – Monday, October 21, 2013 – Fantastic Fest — the nation's largest genre film festival — is pleased to announce the Fantastic Fest Tour, which will take place at all Alamo Drafthouse markets over three weekends in November. Fantastic Fest has partnered with Drafthouse Films, Magnet Releasing, and Well Go USA to present audience favorites from the films that played at Fantastic Fest 2013. The Fantastic Fest tour is designed to highlight these independent titles, and give discerning and adventurous filmgoers across the nation the opportunity to enjoy unique works well before their theatrical and/or online release.
"We wanted to bring the excitement of Fantastic Fest to other cities around the country," said Alamo Drafthouse and Fantastic Fest founder Tim League. "Genre film fans will get a sneak peak at this year's hands-down craziest and wickedly enjoyable movies."
The inaugural 2013 Fantastic Fest Tour will consist of the following titles. For exact locations, showtimes and tickets please visit- http://drafthouse.com/packages/fantastic-fest-2013-tour
BIG BAD WOLVES
Directors: Navot Papushado and Aahron Keshales
2013, Israel, 110 min
The directing team behind the 2010 cult smash RABIES return to the screen their unique blend or horror, suspense and droll comedy. Iconic director Quentin Tarantino recently called BIG BAD WOLVES "the best film of the year."
BORGMAN
Director: Alex Van Warmerdam
2013, The Netherlands, 113 min
Something wicked this way comes in the form of the polite and the normal as a drifter and his followers invade the home of a bourgeois family. Borgman is the official Netherlands entry for the Academy Award Best Foreign Language Film. Jessica Kiang of Indiewire describes BORGMAN as "[c]austic, surreal, creepy, and blackly funny."
CHEAP THRILLS
Director: E.L Katz
2013, USA, 85 min
A recently fired father (Pat Healy) facing eviction is paid to take on an escalating series of insane challenges from a rich couple (David Koechner and Sara Paxton) with a twisted sense of humor. "[Cheap Thrills] is many things: original, satirical, violent, funny....Consider yourself warned," said Complex.com's Matt Barone. "Genre flicks this unique, daring, and perversely thoughtful don't come around very often."
CONFESSION OF MURDER
Director: Jeong Byeong Gil
2012, South Korea, 119 min
After the statute of limitations expires on a series of high profile murders, a man writes a book claiming to be the killer, setting off a firestorm of media attention as the families of the dead and the cop in charge of the case hunt for justice. Film School Rejects says the film "melds intense drama, exhilarating action, and honest heart into one hell of a ride."
THE CONGRESS
Director: Ari Folman
2013, Israel, 123 min
Robin Wright (playing a version of herself) receives the last offer she'll ever get from a Hollywood studio in Ari Folman's adaptation of Stanislaw Lem's classic sci-fi novel, and his follow-up to the animated WALTZ WITH BASHIR. Also stars John Hamm and Harvey Keitel. Empire Online's Damon Wise describes THE CONGRESS as an "extraordinary and very touching film that exists somewhere in the twilight zone between the existential brainteasers of Charlie Kaufman and the psychedelic wonders of Hayao Miyazaki.
GRAND PIANO
Director: Eugenio Mira
2013, Spain, 90 min
In this Fantastic Fest 2013 Audience Award winner, a renowned concert pianist (Elijah Wood) returns to the stage for one final performance, only to become the target of a sadistic cat-and-mouse game with a faceless sniper (John Cusack). IGN calls GRAND PIANO "Hugely entertaining-an acting and directing tour de force that holds the viewer in its vice-like grip from start to finish."
JOURNEY TO THE WEST: CONQUERING THE DEMONS
Directors: Stephen Chow and Chi-Kin Kwok
2013, China, 110 min
The undisputed Chinese master of comedy, Stephen Chow (SHAOLIN SOCCER; KUNG FU HUSTLE) returns with an action-packed love story about competing demon hunters vying for the same conquests. Badass Digest says the film is "a monster-iffic blast. Outstandingly entertaining – you will laugh your ass off."
WHY DON'T YOU PLAY IN HELL
Director: Sion Sono
2013, Japan, 126 min
Things get insanely bloody when an aspiring film troupe collides with a yakuza boss who wants to make a movie with his daughter, Fantastic Fest veteran Sion Sono's (LOVE EXPOSURE; SUICIDE CLUB) latest has been called "a madcap salute to cinema and yakuzas" by Debra Young of The Hollywood Reporter.
For the latest developments visit the Fantastic Fest official site www.fantasticfest.com and follow us on Facebook & Twitter.
For Fantastic Fest, Drafthouse Films & Alamo Drafthouse Media Requests:
CONTACT: Brandy Fons
PHONE: (310) 809-8882
E-MAIL: brandy@fonspr.com
About Fantastic Fest:
Fantastic Fest is the largest genre film festival in the U.S., specializing in horror, fantasy, sci-fi, action and just plain fantastic movies from all around the world. In years past the festival has been home to world premieres of FRANKENWEENIE, RED DAWN, PARANORMAL ACTIVITY 3 & 4, THERE WILL BE BLOOD, APOCALYPTO, ZOMBIELAND and RED while the guest roster has included such talent as Tim Burton, Andy and Lana Wachowski, Mel Gibson, Bill Murray, Edward Norton, Ryan Reynolds, Karl Urban, Josh Hartnett, The RZA, Dolph Lundgren, Paul Rudd, Bill Pullman, Paul Thomas Anderson, Kevin Smith, Jon Favreau, George Romero, Darren Aronofsky and Mike Judge. Fantastic Fest also features of world, national and regional premieres new, up and-coming genre films. Fantastic Fest has seen the acquisition of many titles, including BULLHEAD, KILL LIST, MONSTERS, KLOWN, THE FP, PENUMBRA, HERE COMES THE DEVIL, NO REST FOR THE WICKED, VANISHING WAVES, COMBAT GIRLS and I DECLARE WAR. Fantastic Fest is held each year at the Alamo Drafthouse Cinema in Austin, Texas. Alamo Drafthouse has been named the best theater in the country by Entertainment Weekly, Wired and TIME. Variety included Fantastic Fest in a list of "10 Film Festivals We Love," and was also named one of the "25 coolest film festivals" by Moviemaker Magazine.
About Alamo Drafthouse:
Alamo Drafthouse is an entertainment brand comprised of the acclaimed cinema-eatery chain, the largest genre film festival in the United States and a collectible art gallery. Named "the best theater ever" by Time Magazine, the Alamo Drafthouse Cinema has built a reputation as a movie lover's oasis not only by combining food and drink service with the movie-going experience, but also introducing unique programming and high-profile, star studded special events. Alamo Drafthouse Founder & CEO, Tim League, created Fantastic Fest, a world renowned film festival dubbed "The Geek Telluride" by Variety. Fantastic Fest showcases eight days of offbeat cinema from independents, international filmmakers and major Hollywood studios. The Alamo Drafthouse's collectible art gallery, Mondo, offers breathtaking, original products featuring designs from world-famous artists based on licenses for popular TV and Movie properties including Star Wars, Star Trek & Universal Monsters. The Alamo Drafthouse Cinema is expanding its brand in new and exciting ways, including the launch of Drafthouse Films, a new film distribution label and plans to extend its theaters and unique programming philosophy to additional markets across the United States. More information about Alamo Drafthouse franchise opportunities are available on the official website www.drafthouse.com.
About Drafthouse Films:
Drafthouse Films, the film distribution arm of the Alamo Drafthouse Cinema, is a curated brand of provocative, visionary and artfully unusual films new and old from around the world. Following the earnestly simple motto of "sharing the films we love with widest audience possible," Drafthouse Films debuted in 2010 with the theatrical release of Four Lions, which was named one of Time Magazine's "Top 10 Films Of The Year." The company's second release BULLHEAD was nominated for the Best Foreign Language Oscar® in 2012, followed by internationally celebrated Danish comedy KLOWN, which was slated for a Warner Bros/Todd Phillips produced US remake. The release of groundbreaking documentary THE ACT OF KILLING, produced by Errol Morris and Werner Herzog won top prizes at festivals worldwide and earned the year's strongest box office opening for a documentary in 2013.
The 2014 slate includes the SXSW Midnight Audience Award black comedy/thriller CHEAP THRILLS, Ben Wheatley's "psychedelic trip into magic and madness" A FIELD IN ENGLAND, the Netherlands' official 2014 Oscar® entry BORGMAN, Japanese auteur Sion Sono's Toronto International Film Festival Audience Award-winning WHY DON'T YOU PLAY IN HELL, Cannes 2013 official selection NOTHING BAD CAN HAPPEN and Ari Folman's epic sci-fi animated/live-action hybrid THE CONGRESS starring Robin Wright, Harvey Keitel, and Jon Hamm.
Drafthouse Films distributes films theatrically, through home video, VOD and their direct-to-consumer platforms integrating into the ever-growing Alamo Drafthouse entertainment lifestyle brand, which along with the Alamo Drafthouse Cinemas includes: Mondo, the collectible art boutique; Fantastic Fest, the largest international genre film festival in the US; and the pop culture website Badass Digest.
About Magnet Releasing:
Magnet is the genre arm of Magnolia Pictures, specializing in films from the vanguard of horror, action, comedy and Asian cinema, and the home of genre classics like Tomas Alfredson's Let the Right One In, Takeshi Miike's 13 Assassins, Christopher Smith's Black Death, Ti West's The House of the Devil, Andre Ovredal's Trollhunter, Gareth Edward's Monsters, Neil Marshall's sword and sandals bloodbath Centurion, and Tony Jaa's Ong Bak trilogy to name a few. Recent releases include the terrifying anthologies V/H/S and V/H/S/2, horror anthology The ABCs of Death, Xan Cassavettes' stylish vampire film Kiss of the Damned, and twisted horror-comedy Bad Milo!. Upcomingreleases include Ti West's The Sacrament, The ABCs of Death 2, Grand Piano with Elijah Wood, Stephen Chow's epic Journey to the West, Adrián García Bogliano's Here Comes the Devil, Israeli thriller Big Bad Wolves, sci-fi thriller The Last Days on Mars, and many more.
About Well Go USA Entertainment:
Well Go USA Entertainment (www.wellgousa.com) is a theatrical and home entertainment distribution label that specializes in bringing top content, including the best in Asian Cinema to North America and Asia. As a leader in independent film distribution, Well Go's titles can be seen across a variety of formats and platforms, including theatrical, video-on-demand, digital, packaged media and broadcast television. Since 1994, Well Go has acquired and released over 2,000 titles worldwide and currently releases three to five films per month. Well Go USA Entertainment's corporate headquarters are in Plano, TX with offices in Taiwan and China.