Bruce Campbell Confirms And Teases 'Army Of Darkness 2'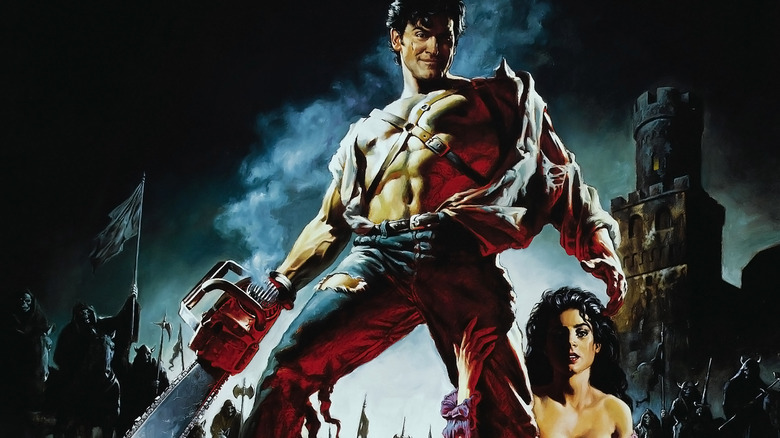 Earlier this year, Sam Raimi and Bruce Campbell produced a remake of their classic horror film, The Evil Dead. At the time, each spoke about wanting to return to the franchise for a fourth time with Army of Darkness 2. Simultaneously, Evil Dead remake director Fede Alvarez said he wanted to make a sequel to his film and, eventually, the two storylines would merge.
Since then, we haven't heard much about the potential films except Alvarez attaching himself to a slew of non-Evil Dead projects. That doesn't necessarily bode well, but Campbell was at Wizard World Nashville and confirmed Army of Darkness 2 was still happening. He even dropped a hint of what it might hold for everyone's favorite S-Mart employee.
The follow quote came from ComicBook.com. Campbell was asked if he was going to make a sequel to Army of Darkness:
The last one was 22 years ago. I just haven't been racing to do it. Sam Raimi is just a little bit busy making the biggest movies in Hollywood. I use to be busy. Now I'm not. That's why I'm here. . . Ash would have to stop occasionally from chasing some deadite to catch his breath. Maybe we could do that, I guess. That would be exciting. Fight in a walker. That would be alright. Hit them with my cane. Fake them out, have a fake heart attack, distract a zombie. I like it. . . Alright sir, the answer is yes.
Old-man Ash, kicking deadite ass? Groovy. But while Campbell certainly sounded like he was joking before saying "the answer is yes," we kind of already knew that. The bigger question is, "How far along is the script?" Since Alvarez is lining up other projects, the answer to that question is probably far less encouraging. Raimi doesn't have a directorial project currently locked in so he could be working on the script, but he's also busy producing the soon-to-film Poltergeist sequel at the moment. As he'd be directing, and likely co-writing, Army of Darkness 2, until he says something on the matter, don't hold your breath. Campbell will produce and star, but he's not the creative catalyst. This movie will eventually happen, but it's a few years away at least.
What do you think of Campbell's quote?