'Mandela' Trailer: Come For The New U2 Song, Stay For The Freedom Fighting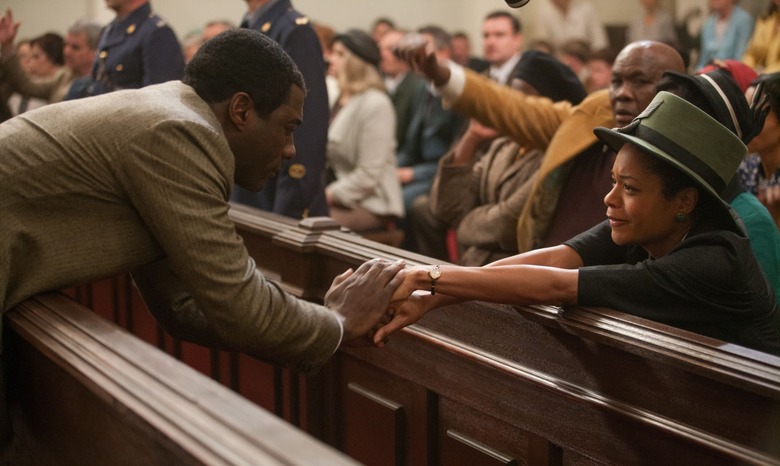 It can be tough for a biopic to stand out in the fall, when the theaters are thick with Oscar-baity prestige movies based on true stories. But the latest trailer for Justin Chadwick's Mandela: Long Walk to Freedom has a musical secret weapon.
The new video is set to the tune "Ordinary Love" by U2, the band's first new song in three years. So whether you're a fan of Bono, Idris Elba, or Nelson Mandela himself, you'll want to check it out after the jump.
The Weinstein Co. debuted the new trailer on the film's Facebook page.
As exciting as the prospect of a new U2 song may be for fans, the best reason to watch the actual movie appears to be Elba's performance as the iconic South African leader. Even the less positive reviews have praised the actor's incredible work here. While Elba doesn't much resemble the man he's playing in real life, he apparently does a fine job of capturing his spirit. Indeed, he's already being buzzed about as a probable Best Actor nominee for the 2014 Oscars.
Mandela: Long Walk to Freedom opens November 29. Naomie Harris also stars, as Winnie Mandela, alongside Tony Kgoroge, Riaad Moosa, Zolani Mkiva and Jamie Bartlett.
MANDELA: LONG WALK TO FREEDOM is based on South African President Nelson Mandela's autobiography of the same name, which chronicles his early life, coming of age, education and 27 years in prison before becoming President and working to rebuild the country's once segregated society. Idris Elba (PROMETHEUS) stars as Nelson Mandela, Naomie Harris (SKYFALL) stars as Winnie Mandela, with Justin Chadwick (THE OTHER BOLEYN GIRL) directing.