Guillermo Del Toro Discusses R Rating For 'Crimson Peak,' Still Hoping To Make 'The Witches'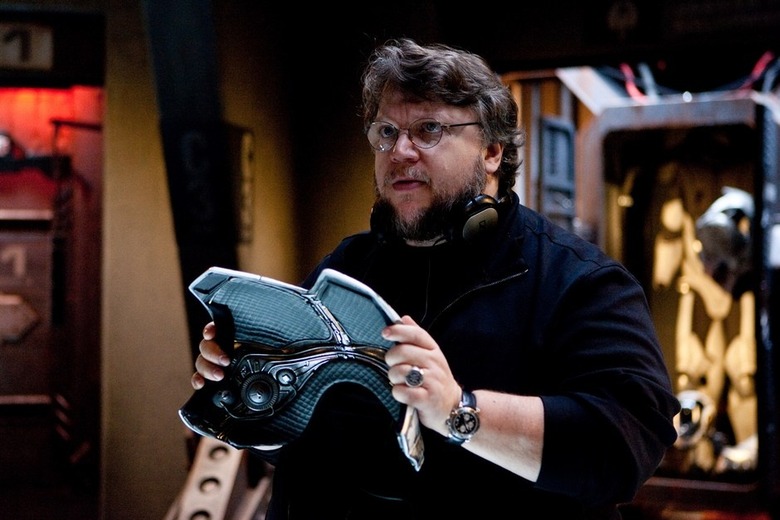 As Guillermo del Toro does press rounds for the disc release of Pacific Rim, naturally he's talking about other films. He mentioned the ongoing screenwriting efforts for Pacific Rim 2, for instance, and in another interview he was questioned about his upcoming haunted house move Crimson Peak.
The director says that one is very much designed as an R-rated piece of horror, which should please fans of the genre. Del Toro is working on the pilot of The Strain now, and says "I go into shooting Crimson Peak in February. That's basically my next year-and-a-half or two years." He also says he still hopes to make his adaptation of Roald Dahl's book The Witches, which he's been working on for years.
In addition, the voice cast has been announced for The Book of Life, which is the Day of the Dead-set animated feature the director is producing.
Asked by Rolling Stone about the difference between Crimson Peak and Don't Be Afraid of the Dark, which del Toro scripted and produced, the director said,
The problem with Don't Be Afraid of the Dark was that it was designed to be a PG-13 movie. It was literally a horror movie for a younger generation. I was trying to do the film equivalent of teenage, young adult readers and when they gave it an R rating, the movie couldn't sustain an R. It had a couple of intense scenes, but it didn't have the weight to be an R-rated movie. Crimson Peak is an R-rated movie from the get-go. At the same time, it's a sincere, beautiful, classical gothic romance that's very violent and very kinky, in a way. What's a complete dream is the cast – Jessica Chastain, Tom Hiddleston, Mia Wasikowska and Charlie Hunnam. It's amazing. We've also been designing the house to the last little corner, and it really is a monumental character in the film. I hope it's going to be my most beautiful movie.
And with respect to the possible film version of Roald Dahl's The Witches, it's all up to WB now:
The Witches is at Warner Bros., and every time I can, I bring it up. Every time they say that they're interested and then nothing happens. I can tell you that [Felicity] "Liccy" Dahl read the screenplay and, when I went to see her at Gypsy House, she said, "I honestly think it's the best adaptation of Roald Dahl's books ever." I spent about two years adapting the screenplay. If anyone says to me, "You have to shoot the movie in the most difficult circumstances as you can, but you'll get to do it," I would do it.
Finally, there's The Book of Life, which is about "Manolo, a young man who is torn between fulfilling the expectations of his family and following his heart.  Before choosing which path to follow, he embarks on an incredible adventure that spans three fantastical worlds, where he must face his greatest fears."
Jorge Gutierrez (El Tigre: The Many Adventures of Manny Rivera) is directing and co-wrote with Doug Langdale.
THR reports that Channing Tatum, Zoe Saldana, Diego Luna and Christina Applegate have joined Ice Cube, Kate del Castillo, and Ron Perlman as the voice cast. There are also roles for Cheech Marin, Hector Elizondo, Placido Domingo, Ana de la Reguera, Eugenio Derbez, Gabriel Iglesias, Ricardo ("El Mandril") Sanchez and Danny Trejo.
The Book of Life is set for release on Oct. 17, 2014.