Darren Aronofsky And Paramount May Have Different Visions For 'Noah'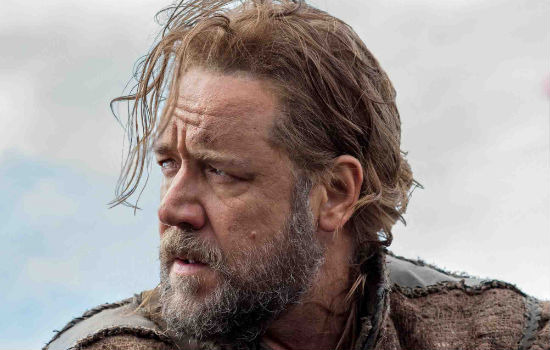 Darren Aronofsky's upcoming film Noah tells exactly the story the title would lead you to assume: of Noah (Russell Crowe, above), the ark, and the flood, as relayed in the Bible.
Well, not quite as relayed in the Bible, and that's where things get tricky. From the beginning Aronofsky wasn't interested in making a straight Biblical story — while he described this one very early on as a "Biblical epic," the actual details of the story aren't quite what you got out of Sunday School. The director has said this is "about environmental apocalypse... Noah was the first environmentalist."
Which could be a problem for Paramount and New Regency, which ponied up for the film not only because Aronofsky's last movie, Black Swan, turned a healthy profit and earned an Oscar for Natalie Portman, but because everyone on the money side figured a slightly fantastic vision of Noah would be an easy sell to faith-based audiences, simply based on its Biblical pedigree. Oops.
Now there's word that early test screenings have been "worrisome," with "troubling reactions," and talk of Paramount and the director battling over final cut. How much should you make of all that? Figure it out below.
THR has the report, with Paramount vice chairman Rob Moore downplaying problems, saying the tests are a "normal preview process" and that what gets released will be "one version of the movie that Darren is overseeing."
There are no details on how, exactly, the test screenings were "troubling;" all we get is that they seem to have been aimed at a variety of audiences: Jewish, Christian, and a "general public" screening. The fact that the results weren't up to scratch is also interesting given that the first reactions to Noah footage, which also came out of a faith-based Christian conference in Dallas, were very enthusiastic.
What's the takeaway here? Reading between the lines it seems the real problem is that Aronofsky made the movie he intended to make all along — and was clear about wanting to make. But now that they've seen it, people on the distribution side realize it isn't an easy sell. And that could lead to friction. One THR source says "Darren is not made for studio films... he's very dismissive. He doesn't care about [Paramount's] opinion." So while there may be some hope to change the third act, to make it easier or nicer or more expected, that's almost certainly not what Aronofsky wants to make.
You may recall the script review from Drew McWeeney that hit last year, in which he described the setting as "a violent, freaky, scary world," and said "he's written this as a serious look at our place on this planet and our rights as citizens of the world. I think it would be hard to pin this version of the story down to any one faith, and in shaking off the dusty respectability of the accepted version of the story, Aronofsky and Handler may have actually found a way to give it a stronger thematic resonance than I would have imagined." That's the film all involved signed up to make — it's the one that was on paper — and hopefully it's the one we'll see.
Paramount has plenty of room to work here; Noah is scheduled for March 28, 2014, and a trailer hasn't even gone out to general audiences.