'Big Ass Spider' Trailer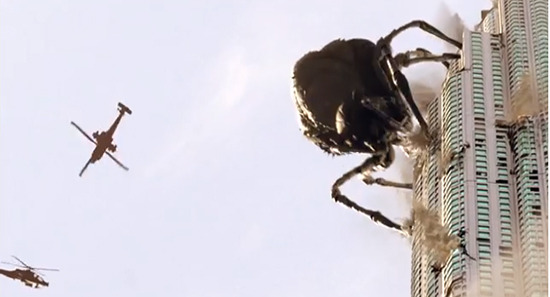 A few things have been tweaked in the sales pitch for Big Ass Spider since we first saw a trailer for the film tied to its SXSW debut this past March. It's a little more polished, and some of the effects look a bit better. (This may be just a better transfer of the same shots, however.) Most crucially, there's still no dash in the title, so we're left wondering what an "ass spider" is, and even more frightening, what a big one looks like.
This trailer gives up a money shot right off the bat, just in case you were wondering. But it avoids the melting-face shot we saw in that first trailer, and generally has a good time living in Syfy/Asylum territory, complete with all the ropey digital effects and big, big acting you'd expect. 
Mike Mendez directs. Lin Shaye, Ray Wise, and Greg Grunberg star, and the film opens on October 18.
A giant alien spider escapes from a military lab and rampage the city of Los Angeles. When a massive military strike fails, it is up to a team of scientists and one clever exterminator to kill the creature before the city is destroyed.