'Monsters University' Deleted Scenes Offer Lessons In Drama And Recon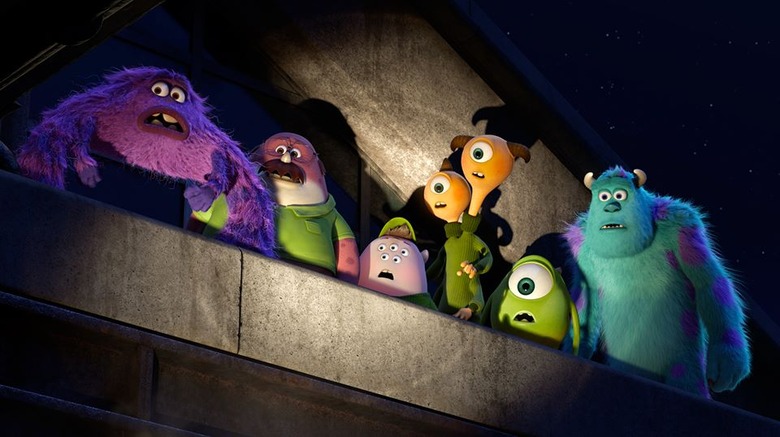 The completed Monsters University hit theaters this summer, but now director Dan Scanlon is back to earn some extra credit with two new deleted scenes. The clips were released as promotion for the film's home video release, which will hit in time for Halloween.
The first offers a better look at the Monsters University campus and curriculum, including a lesson on gathering information about kid targets. The second shows Mike (voiced by Billy Crystal) and Sulley (voiced by John Goodman) butting heads yet again, this time in the context of a drama course. Hit the jump to check them out.
Scanlon explains that they decided against this particular scene because, while it helped open up the world of the movie, it didn't really move the story forward. Still, it's cute and charming enough as a standalone sequence.
The other clip, titled "Drama Class," was posted on Disney/Pixar's YouTube page.
It seems that this one didn't make the cut because it was from an earlier version of the plot, but again, it's fun to watch on its own. Both clips will be included as bonus features on the DVD/Blu-ray, out October 29.
Ever since college-bound Mike Wazowski (voice of Billy Crystal) was a little monster, he has dreamed of becoming a Scarer—and he knows better than anyone that the best Scarers come from Monsters University (MU). But during his first semester at MU, Mike's plans are derailed when he crosses paths with hotshot James P. Sullivan, "Sulley" (voice of John Goodman), a natural-born Scarer. The pair's out-of-control competitive spirit gets them both kicked out of the University's elite Scare Program. To make matters worse, they realize they will have to work together, along with an odd bunch of misfit monsters, if they ever hope to make things right.