Star Wars Bits: Lots Of 'Rebels' Concept Art, Plus Anthony Daniels, Daniel Radcliffe And 'Clone Wars'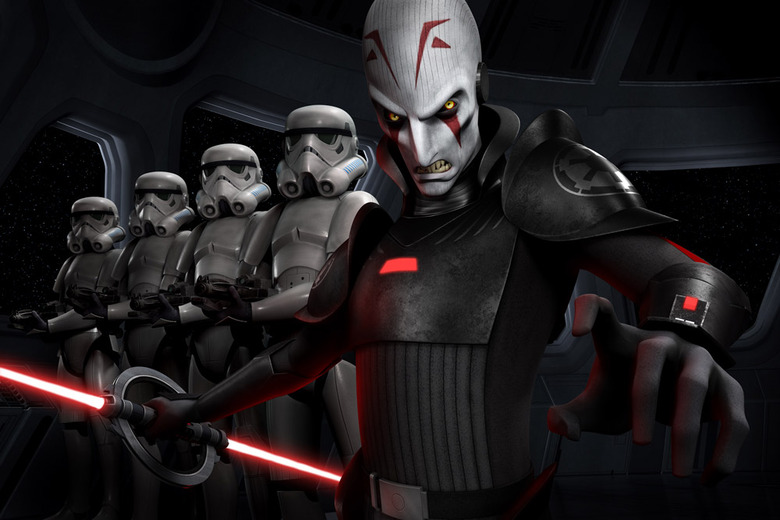 Lucasfilm finally revealed some of their upcoming Star Wars plans this weekend at New York Comic-Con. There we learned a bunch about 2014's Disney XD series Star Wars: Rebels, including that a new villain called the Imperial Inquisitor (above) will fight for the Empire. The Inquisitor's reveal might have been the highlight but it was far from the only piece of news. After the jump, check out a bunch of new concept art from the show as well as the following:
Anthony Daniels might have confirmed participation in Star Wars Episode VII.
Ralph McQuarrie's designs are a major influence on Star Wars Rebels.
Daniel Radcliffe talks about friends working on Star Wars Episode VII.
The final episodes of Star Wars: Clone Wars will air in early 2014.
Speaking at New York Comic-Con, C-3PO actor Anthony Daniels said he didn't want to drop any Star Wars Episode VII news, but instead, slipped by saying the following. Thanks to Film Buff Online.
Yes, I am the only actor to be in all seven because I feel... Six! Whatever.
JediNews posted a TON of concept art grabbed from the Rebels panel at NYCC. Here's just a small selection of the cooler stuff, which is obviously influenced by the original trilogy. Head there for more.
Another image revealed in passing was an animator who seemed to be drawing what looked like Ralph McQuarrie's original concept art for IG-88. Which makes sense considering it was revealed his drawings had a heavy influence in the show. Topless Robot has more info on that as well as the primary planet of Lothal.
Also, everyone who attended the panel got this pins, also via JediNews.
In case you missed it, here are the #StarWarsRebels panel pins at #NYCC. pic.twitter.com/aTcXoz3nzI

— Justin LaSalata (@justinlasalata) October 13, 2013
Rebels is using lots of the creative team behind Star Wars: Clone Wars, and many fans are upset that show went off the air so abruptly. However, executive producer Dave Filoni said the following on Facebook about the final episodes. Thanks to CBR for the heads up:
Star Wars fans – I have some exciting news! We have wrapped production on all of the remaining Star Wars: The Clone Wars episodes, and while that might be sad news in one way, it's good news in another. It means you will finally get to see them. When, exactly, is a detail I cannot yet share. I can confirm that in early 2014 you will be watching the final episodes of The Clone Wars, including one of Master Yoda's most challenging missions. So, get ready. We've got Clone Wars and Rebels coming at you in 2014. Animated Star Wars is alive and well. Trust in the Force my friends.
Filoni also did an extensive interview with StarWars.com on the occasion.
Finally, Daniel Radcliffe had a really funny interview with The Huffington Post and in it, he talked about Star Wars Episode VII filming in England:
I have to catch up before that because fucking all of my friends are working on the new one. Because "Star Wars" is filming in Leavesden. There was at least one guy, Digby Milner, who worked on all the "Potters" who had also worked on "Star Wars," the originals. And he will be working on new "Star Wars" at Leavesdon as well. And it is kind of amazing because "Star Wars," the originals, were made in England as well. So there's a lot of that crew who we'll basically have a huge amount of sons and daughters of the original crew who are now on the new "Star Wars" movie.