Tina Fey And Amy Poehler Will Host The Next Two Golden Globes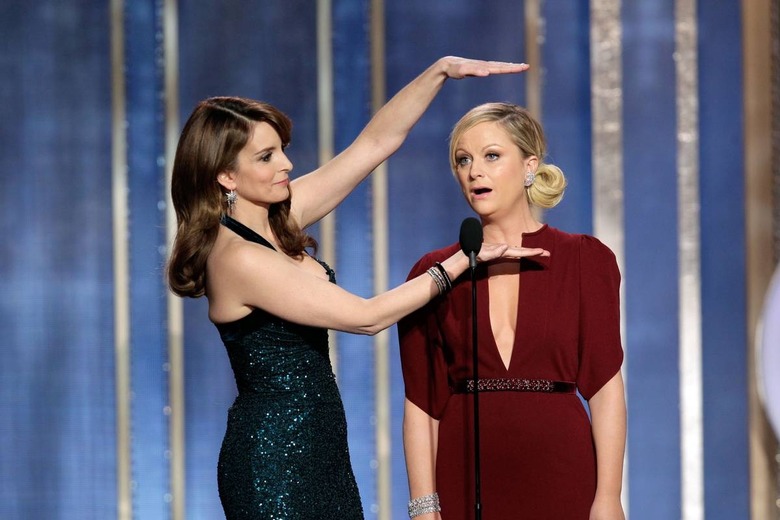 The bad news is, Tina Fey and Amy Poehler definitely won't host the Oscars anytime soon. The good news is, that's because they'll be tied up hosting the Golden Globes for the next two years.
NBC and Dick Clark Productions have set the comedy duo for the 2014 and 2015 ceremonies, after their first outing at the 2013 ceremony drew a ratings bump and a glowing critical reception. Hit the jump for more details on the pair's return.
That NBC and Dick Clark Prods. would want the pair to return is no shocker. The duo's last turn as show hosts drew nearly 20 million viewers, the highest figure in six years, and a 28% ratings increase over the 2012 show in the coveted 18-49 demo. "Their return ensures that the Golden Globes will once again be the biggest, best and most entertaining awards celebration of the year," said HFPA president Theo Kingma.
Fey and Poehler also drew high praise for their warm, funny performance. Ironically, one of their jokes poked fun at the possibility of their return (h/t
): "We want to assure you that we have no intention of being edgy or offensive tonight, because as Ricky [Gervais] learned the hard way, when you run afoul of the Hollywood Foreign Press, they make you host this show two more times."
The famous friends have been working together for years, most notably as castmates on NBC's Saturday Night Live. Poehler currently stars in the network's Parks & Recreation, now in its sixth season, while Fey's 30 Rock concluded its seven-season run earlier this year. Fey is currently developing a new as-yet-untitled comedy for the network, described as a workplace comedy in the vein of Cheers.