Sequel Bits: 'Tron 3', 'TMNT', '22 Jump Street', 'Dumb And Dumber To', 'Transformers 4'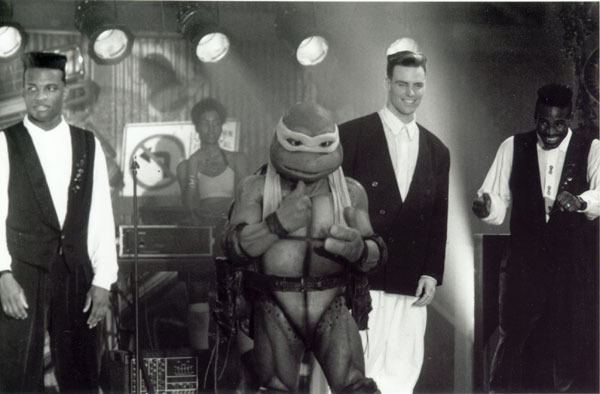 Welcome back from the long weekend, if you had one. Here's what you may have missed in the wonderful world of sequel news:
Writer Adam Horowitz offers a little Tron 3 update
Vanilla Ice really wants to be in the new Ninja Turtles
Kevin Smith hopes to release Clerks 3 in November 2014
The Aliens vs. Predator comic book gets a relaunch
Lloyd opens up in new Dumb and Dumber To set pics
Take a peek at Channing Tatum in 22 Jump Street
A big battle will hit Hong Kong in Transformers 4
Hopefully we'll have some news about what's going on forward with the next one soon. There's nothing official to announce now but hopefully soon, but it's chugging along. It is. Eddie [Kitsis] and I are co-producers on the film. And we have a script that's being written by a great writer named Jesse Wigutow. And we're really, really excited. I mean the studio is hopefully excited, but Joe [Kosinski, the director] is involved and everybody's involved and everybody is waiting to get the go-ahead and we're hopeful.
Horowitz also takes the Tron: Legacy criticism in stride, saying that "if we're lucky enough to continue on with the franchise, we only want to keep making it better." [Forbes]
To '90s kids who grew up watching Teenage Mutant Ninja Turtles II: The Secret of the Ooze, Vanilla Ice is nearly as integral a part of the Turtles mythology as the Turtles themselves. And if he has his way, he'll play a part in Jonathan Liebesman's upcoming Teenage Mutant Ninja Turtles reboot as well.
"Hell yes!" he exclaimed when asked whether he'd be up for a cameo. "Secret of the Ooze is the highlight of my life and I'll never top it!" Mr. Ice even has some suggestions about how he could contribute. "We could do a remake of the Ninja Rap, this time with dub-step!," he said, laughing. "Or even [a role without rapping]. Anything, somewhere in there. Michael Bay's doing this one, it's huge!" [Moviefone]
Kevin Smith is shooting Tusk before he makes Clerks 3, but he's hoping not to dally too much on the latter. At NYCC this weekend, Smith said that he has funding in place for the comedy threequel and hopes to shoot in the spring. If all goes well, he wants to release it in time for the 20th anniversary of the original Clerks in November 2014.
The filmmaker was less forthcoming about the plot of the upcoming film, revealing only that it'd "involve a cast of thousands." Sounds like quite a step up from the tiny, dirt-cheap first film. [NJ.com]
This one is not about the movies, but fans of Dark Horse's Aliens and Predator franchise will be interested to hear that a relaunch is coming, with a new Alien vs. Predator comic by  Christopher Sebela at the center of it.
"All the books are interrelated, so my book will be as much a lynchpin as the rest of the books," Sebela explained. He added that the relaunch was done "in a writer's room format, with several writers and editors sitting around breaking both the overall story and each books' individual story." The release date has yet to be announced. Head to Comic Book Resources to read the rest of Sebela's interview. [via THR]
Some things never change. New Dumb and Dumber To set pics from photographer John Spink show Lloyd (Jim Carrey) on set, ready to unleash his sweet, simple, and rather awkward affection on a smiling young woman.
Dumb and dumber II shooting in Marietta square Jim #Carrey @ajc pic.twitter.com/pE5p0z8jQr

— John Spink (@johnjspink) October 14, 2013
Jim #Carrey loves #Marietta square this much Dumb and Dumber pic.twitter.com/x67LM9eOr0

— John Spink (@johnjspink) October 14, 2013
Jim #Carrey is all open arms in #Marrietta Square with filming of Dumb and Dumber II – http://t.co/em05sJ9ZBK – @ajc pic.twitter.com/O55ptYUn70

— John Spink (@johnjspink) October 14, 2013
The lady in question seems to be Rachel Melvin, who plays Penny Pritchlow. It seems likely that the character is that long-lost daughter Harry (Jeff Daniels) is searching for, but we'll know for sure when Dumb and Dumber To lands next year. [via MovieWeb]
Channing Tatum will be playing football in 22 Jump Street, when he's not busy trying catch college kids involved in illicit activities. Jonah Hill tweeted this photo of Tatum in a blue-and-orange football jersey over the weekend, with the character's undercover name McQuaid emblazoned across the back.
It seems a bit odd to me that the cops would keep their fake identities from the last film, since they revealed themselves at the time. But it's probably easier for audiences if they're consistent. 22 Jump Street is filming now for release on June 13, 2014. [Jonah Hill's Twitter]
Hong Kong may be pleased to welcome the Transformers: Age of Extinction production in real life, but in the movies the arrival of the alien robots will probably spell doom. Yahoo Hong Kong reports that a big battle will take place in the city.
Shooting is expected to take place in Victoria Harbor, Central Bank of China Tower, Hong Kong Convention & Exhibition Center, Wan Chai District, Sham Shui Po District, and the Kowloon Peninsula among other locations, though the crew is still obtaining permission for some locations.
Xinhuanet adds that the shoot will take 10-14 days, and offers some (kinda spoilery) details about the exact scenes being filmed. Head to their site for the description, but be warned that you'll need to be able to understand either Chinese or Google Translate. Transformers: Age of Extinction opens June 27, 2014. [via TFW 2005]