'Marvel Universe Live' Coming To An Arena Near You In 2014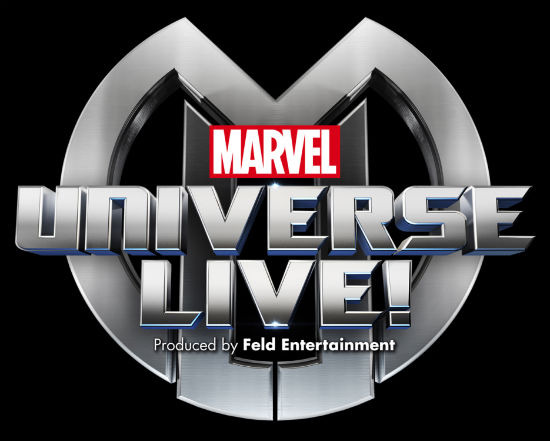 Marvel already dominates comic book shelves, movie theaters, and now your TV sets. The only logical place to go after that is the stage. At New York Comic-Con this past weekend, Marvel announced they're teaming with Feld Entertainment on Marvel Universe Live, designed to be an action-packed, live-action arena show that will start touring in July 2014. It will hit 85 cities over the next two years, telling a brand new original Marvel story featuring all your favorite superheroes and villains.
Read the full press release and watch two teasers below.
Here's the announcement video:
And here's the production tease:
Do you think this is a smart move by Marvel after the huge failure of DC's Batman Live? They've obviously had success with Spider-Man: Turn Off the Dark, but Broadway audiences are different from audiences across the country.
Here's the full press release. For more information, social media connections etc., visit www.marveluniverselive.com.
Today at New York Comic-Con, Juliette Feld, executive vice president and producer with Feld Entertainment, unveiled the first sneak peek of next year's groundbreaking arena spectacular: Marvel Universe LIVE!, produced by Feld Entertainment. During Marvel's signature "Cup O' Joe" panel, Marvel's chief creative officer Joe Quesada introduced Ms. Feld for a surprise presentation about this highly anticipated Marvel live action arena event. Ms. Feld premiered the show's first teaser trailer, providing a tantalizing taste of the cavalcade of Super Heroes to be featured and insight into the original story, and thenrevealed the official Marvel Universe LIVE! logo. In conjunction with the Comic-Con appearance, Feld Entertainment also introduced the creative team tasked with developing this monumental live entertainment Marvel experience."For Marvel Universe LIVE!, we have assembled an accomplished creative team to develop these characters in a truly authentic production for the millions of Marvel fans around the world," said Juliette Feld. "This touring event will be the most technically advanced live show to date, and will bring the Marvel Universe and its bigger-than-life Super Heroes and Super Villains to life before a live audience for the first time."Marvel's chief creative officer Joe Quesada added, "Marvel Universe LIVE! is going to blow people's minds. I have personally been involved and collaborating with the unmatched talent and expertise of the Feld team. The way in which they will be bringing the Marvel Universe to life is truly mesmerizing and there is no doubt in my mind it will be a can't miss event for Marvel fans of all ages. I am excited to have the opportunity to share the show's vision first with our die-hard fans at New York Comic Con."Producers Kenneth Feld and Juliette Feld have tapped an award-winning creative team for next year's preeminent live event. Two-time Emmy award-winner Shanda Sawyer ("Rock 'N Reality Special," Ringling Bros. and Barnum & Bailey®) will serve as director, and is joined by brother and sister writing duo Adam Wilson ("What's Important is Feeling: Stories," "Flatscreen: A novel") and Melanie Wilson LaBracio. Andy Armstrong, stunt coordinator for the 2011 blockbuster film "Marvel's Thor," functions as action and stunt coordinator, while television and live show veteran Joe Stewart ("The Tonight Show with Conan O'Brien," "The Magic of David Copperfield") will lead set design. The vision for the Marvel Universe LIVE! costume design will be guided by Cynthia Nordstrom, whose projects have included Ringling Bros. and Barnum & Bailey and several off-Broadway productions. Norm Schwab (Imagine Dragons 'Night Moves' Tour, Kid Rock 'Best Night Ever' Tour), lighting designer, and Bob Bonniol (Blue Man Group at Universal Orlando, Electric Zoo NYC), video content and system designer, round out the team.Marvel Universe LIVE! will bring Marvel's most iconic heroes and fearsome villains to life like never before during a live-action arena spectacular that will tour 85 North American cities in its first two years. Officially kicking off in July 2014, Marvel Universe LIVE! will redefine the live show experience by integrating a Marvel character driven story with state-of-the-art special effects, pyrotechnics, aerial stunts, martial arts and countless other show elements.