Rumor: 'Amazing Spider-Man 2' Testing Multiple Subtitles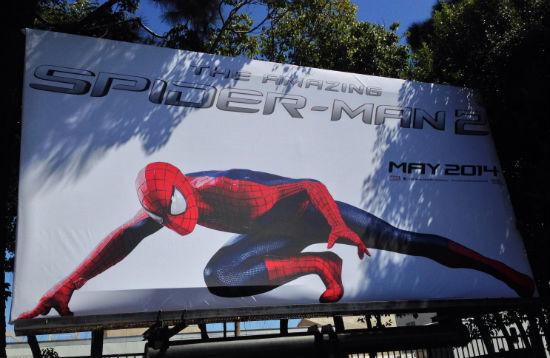 For his movie titles, Sam Raimi went with simple numbers. Then Marc Webb looked to the comics and used "The Amazing" in his own, with plan to use numbering to differentiate his sequels. Now, however, it seems Sony Pictures is thinking about adding a subtitle to The Amazing Spider-Man 2. A Comic Book Movie reader wrote into the site and said that at a recent Mall of America screening of Captain Phillips, Sony reps were polling audience members on three different subtitles for May 2014 sequel.
Sony had no comment on this potential title change, but here's how the Comic Book Movie reader reported it.
Sony is distributing Captain Phillips, and at an early screening last week at the Mall of America in Minnesota, studio representatives were on hand to ask audience opinions on three titles. The reader forgets the first one, but said the second two were The Amazing Spider-Man: The Price of Power and The Amazing Spider-Man: With Great Power.
I don't particularly like either of those titles and personally think the simple "2" works in this case. But non-numbered sequels (Sherlock Holmes: A Game of Shadows, Star Trek Into Darkness, Mission: Impossible – Ghost Protocol) are becoming more common. I wouldn't be surprised if Sony waited to see how Thor: The Dark World did in a few weeks. That'll be Marvel Studio's first subtitled sequel, a practice they've embraced moving ahead (Age of Ultron, The Winter Soldier) but haven't put into practice yet. It probably won't do as well as numbered sequels like Iron Man 2 or Iron Man 3, but if the Thor subtitle confuses audiences, maybe Sony will stick with numbers.
What do you think is the best title for The Amazing Spider-Man sequel?
The Amazing Spider-Man 2 opens on May 2, 2014. The film stars Andrew Garfield, Emma Stone, Jamie Foxx, Chris Cooper, Paul Giamatti, Felicity Jones, Martin Sheen and Colm Feore. The Amazing Spider-Man 3 is planned for June 10, 2016, and The Amazing Spider-Man 4 will hit theaters on May 4, 2018.