Twitter To Sell Movie Tickets Through Fandango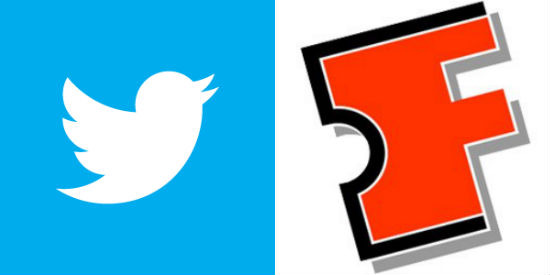 Every single day, your social media experience gets more streamlined. Chat is now in e-mail, Facebook embeds your Instagram, your TV is connected to the internet, GetGlue documents your viewing habits and soon, Twitter will sell you movie tickets.
A new deal was just signed between Twitter, Comcast and NBC Universal. Starting in November, a "See It" button will start appearing in your feed whenever someone talks about a TV show, movie or sporting event. If you click on it, depending on your cable provider and subscriptions, that event will just come on. In the case of movies, it'll link to Fandango. Read more details below.
As is the case with any deal like this, it'll start small, only working with Universal properties and on Comcast cable systems. But if it proves successful, it'll likely expand out. Personally, I don't think a "See It" button is going to change my habits. If someone is talking about a show or movie I want to see on Twitter, I'll walk to another room and put it on. Maybe if I was looking at Twitter on my TV, it would work, but how many people actually do that?
Integration with my smartphone and tablet is a bit more appealing, however. If I'm on my iPad on my couch and forget a game is on, clicking a button to turn my TV on, and to the right channel, is pretty damn cool.
Movie tickets though? We'll see.
Anyway, here's the full press release via Deadline. There's some other interesting info in here about advertising embeds and more. Do you think this will be a big deal?
Comcast Corporation (NASDAQ: CMCSA, CMCSK), NBCUniversal and Twitter today announced a strategic partnership to more directly connect the millions of Twitter users with television viewing. In the first step of the partnership, Comcast engineers created a new feature called "See It" that will give millions of Xfinity TV customers the ability to instantly access TV shows, movies and sports directly from a Tweet. See It will debut in November with shows from NBCUniversal's networks.The companies also announced an advertising partnership with NBCUniversal in Twitter's Amplify program which drives awareness of TV programs by embedding sponsored, real-time video clips in tweets. Comcast and Twitter are also already exploring additional opportunities to integrate social TV conversations into Comcast's X1 platform – the company's entertainment operating system.See It & TwitterEach day, Twitter plays host to the real-time conversation around the live broadcast of television shows. With See It, Xfinity TV customers who discover new shows and movies in their Twitter feeds will be able to tune-in to those programs with the click of a button. The See It button will enable a menu of consumption options, including being able to:· tune to live TV or start a show On Demand on their set-top box· tune in to a show online or on their mobile device· set DVRs· set a reminder· buy theater tickets through Fandango"See It is a simple yet powerful feature that creates an instant online remote control," said Brian Roberts, Chairman and CEO, Comcast Corporation. "Comcast is taking a leap forward in social TV by enabling Twitter users to more easily find and view the shows they want to watch and discover new shows. Twitter complements the live viewing experience and is an ideal partner for Comcast and NBCUniversal.""Twitter is where television viewers come to talk about what they're watching on TV when they're watching it. Millions of users are exposed to the live conversation that unfolds on Twitter while a show is on the air and now, with See It, they'll be able to tune in directly from a Tweet," said Dick Costolo, CEO, Twitter. "It's a great example of Comcast's leadership in bringing TV to new platforms."This season, NBCUniversal television shows on the following networks will use See It on Twitter: NBC, NBC Sports Network (NBCSN), CNBC, MSNBC, USA, Syfy, Bravo, Oxygen, E!, Esquire Network and The Golf Channel. Shows include: The Voice (NBC), The Blacklist (NBC), Chicago Fire (NBC), The Michael J. Fox Show (NBC), Sunday Night Football (NBC), Access Hollywood, NHL, Premier League Soccer, Sochi Olympics (NBC and NBCSN), Today Show (NBC), Psych (USA) and Suits (USA), among others.See It Industry DistributionThis new See It feature was designed to integrate with other video distribution partners, television networks and websites. Comcast and Twitter are in discussions with additional distribution partners and television networks that will use this feature to promote their content in the coming months.Given that Twitter is the center of millions of real-time conversations about television shows, it is the perfect partner to connect those conversations with live television viewing. See It enables networks to make those connections and help convert the millions of TV-related tweets into actual viewing to help drive ratings and engagement with viewers.NBCUniversal and Twitter Advertising PartnershipNBCUniversal and Twitter also will be working closely together on a new advertising partnership that will enable NBCUniversal's advertising clients to expand their TV and digital sponsorships to Twitter. Through Twitter's Amplify program, NBCUniversal's entire portfolio – two broadcast networks, Spanish and English language, 17 cable networks and more than 50 digital properties – can extend the reach of its advertising campaigns and sponsorships to its audiences on Twitter and drive tune-in to its programming. The agreement also provides NBCUniversal's advertising clients access to Twitter's promoted platform."NBCUniversal's content is driving the most popular conversations in social media," said Steve Burke, CEO, NBCUniversal. "Now with this partnership, our advertisers will be able to reach even more of the specific audiences that they desire."NBC Sports Group is the first NBCUniversal property to participate in the new advertising partnership by delivering Premier League short-form video highlights sponsored by General Electric to fans within Twitter's social framework. The new agreement expands the reach of the sport, while also increasing the consumption of NBC Sports video.Additionally, E! and USA Network are two of the earliest adopters and today are leading entertainment brands on Twitter. USA Network is putting this partnership to full use as it rolls out its second screen campaign for Modern Family beginning October 18 with its on-air TGIMF (Thank Goodness its Modern Family) Family Friday marathon. E! is working with key advertising partners to amplify their messages and custom content across the brand's marquee events this holiday season and into the all-important red carpet events in 2014. This expanded functionality combined with the new NBCUniversal Amplify agreement enables USA and E! to reach new audiences in real-time and give brands more innovative ways to reach consumers.