Michael Bay Producing And May Direct WWII Tale 'Sabotage' [Video]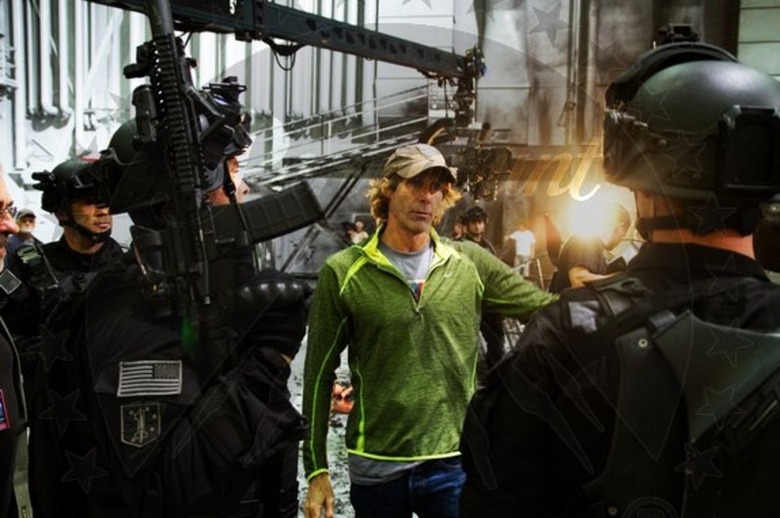 This sounds familiar — Michael Bay is developing a new story idea, acting as producer, with the possibility of directing depending on how things shake out.
That's the deal with UbiSoft's Ghost Recon, and now for a project called Sabotage. Paramount just bought the pitch by Neal Bascomb based on his book proposal that tells the WWII story of an Allied effort to stifle Hitler's nuclear ambitions. In short, multiple raids were carried out against a plant in Norway designed to produce "heavy water," which would be a precursor to nuclear weaponry.
The full book title is Sabotage: A Genius Scientist, His Band of Young Commandos, and the Mission to Kill Hitler's Super Bomb, and the book and potential film are envisioned as "gripping WWII action-thrillers."
The Wrap has the deal info, and explains the story:
Set in 1942, the story follows a brilliant scientist who flees the Gestapo to inform the Allies that the Nazis are secretly developing a nuclear program at an industrial fortress called Vermork deep in the mountainous expanse of Norway's Telemark region. Knowing that Hitler gaining nuclear capabilities would be unthinkably catastrophic, the Allies assemble a fearless team of nine Norwegian refugee commandos to infiltrate the Nazi-occupied country.  In an apparent suicide mission, this team must brave the arctic landscape and pull off an impossibly daring assault on Vermork, which sits perched on impenetrable, icy cliffs. With little more than parachutes, skis, tommy guns, and explosives, the team is the Allies' only hope to halt Hitler's nuclear ambitions, and their adventure is one of WWII most thrilling, action-packed tales.
Since this deal just went down, don't expect to hear too much about this one for a while. It's a pretty great story idea, and you can read more here. There have been multiple film versions of the story before, based on different raids mounted on the plant. The US version is The Heroes of Telemark, directed by Anthony Mann and released in 1965.
Below, you can watch a BBC documentary that covers some of the raid efforts: