Quentin Tarantino Passed On Kevin Smith's 'Tusk;' Filming Starts November 4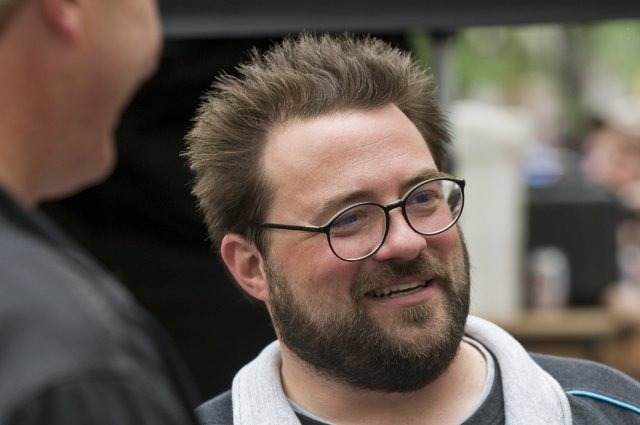 Wednesday, Kevin Smith posted a second guest blog post on The Hollywood Reporter. Like the first one, it primarily concerns his next movie, Tusk, and is filled with new information. The most important piece is, after some financing issues, the film not only got the money it needs, it starts filming November 4 in North Carolina. Second, it explains why Quentin Tarantino passed on a role in the film, that of a French Canadian detective. (Not the man in a walrus suit, as we reported based on other sites over the summer.) Read some highlights below.
Here's the full story over on the Hollywood Reporter, the bulk of which is the following press release announcing Demarest Films as the production company:
Financier and production company DEMAREST FILMS (Machete Kills, A Most Wanted Man) will underwrite and produce visionary director Kevin Smith's next film, the audacious and utterly terrifying Tusk.Tusk, which commences principal photography in Charlotte, North Carolina, on Nov. 4, will star Justin Long (Live Free or Die Hard, A Case of You) and cult favorite Michael Parks (Red State, Django Unchained). Smith will direct his own script, which evolved from Episode 259 of his long-running podcast with Scott Mosier, the award-winning SModcast. Tusk's horror story follows a podcaster who sets out to interview an eccentric, reclusive old seafarer, only to find himself a plaything in the gruesome plot of a deranged killer.Demarest's Sam Englebardt and William D. Johnson will produce Tusk alongside Shannon McIntosh, for Smith's SModcast Pictures banner. Demarest's David Greathouse and Jennifer Schwalbach are executive producers. SModCo's Jordan Monsanto and Chris Parkinson, the author of the hoax walrus ad, are associate producers.Demarest CEO Sam Englebardt said of Tusk, "Demarest is a director-driven company, and Kevin has always been at the top of our list of filmmakers with whom we want to work."Chairman William D. Johnson added, "We are hugely excited to see what results when Kevin applies his brilliant, twisted mind to classic horror filmmaking.""I can't thank the good folks at Demarest enough for wading into weird waters with us," said Smith. "They are the walrus. Goo-goo-gajoob."
- – -
Smith also explained that while Tarantino really loved the script, he didn't want to act right now:
QT said he dug the script and couldn't wait to watch Parks let loose his internal Kraken, but he had no interest in acting at the moment. It was a bummer, as having Q in the mix would've been poetic. Without him, I would need someone equally genius to play Lapointe — our French-Canadian Javert. If it wasn't going to be Quentin, then who would play Guy?
That's the tease Smith leaves readers with this second (of three?) guest columns. He promises the third one in January which – if things go right – is when the film will premiere at the Sundance Film Festival. (Which is curious as the final deadline to submit films was September 23.)
Tusk is coming people. Be very afraid. And for more, read the full column.