'The Starving Games' Trailer: 'The Hunger Games' Gets The 'Scary Movie' Treatment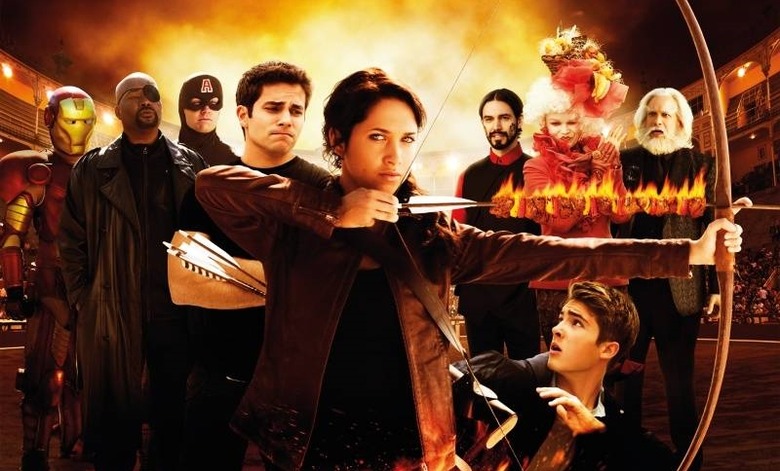 If you watched The Hunger Games and thought to yourself, "Man, this movie would be so much better if it were more like Scary Movie," then have we got a trailer for you.
The Starving Games is exactly what it sounds like — a Jason Friedberg and Aaron Seltzer parody in the vein of Date Movie, Epic Movie, Disaster Movie, and the (slightly) more creatively titled Meet the Spartans and Vampires Suck. The first trailer has just hit, and you can check it out after the jump.
Ironically enough for a movie centered around "Kantmiss Evershot" (Maiara Walsh of the failed Zombieland pilot), The Starving Games' aim is all over the place. In addition to The Hunger Games, the film also takes on pics like Lord of the Rings, Avatar, The Expendables, The Avengers, Harry Potter, games like Angry Birds and Fruit Ninja, and even random pop culture figures like Tim Tebow, Psy, and LMFAO.
But the kitchen-sink approach shouldn't feel like anything new to the franchise's fans, or anyone else for that matter. The Starving Games looks exactly like all of the other films that Friedberg and Seltzer have put out over the past decade. And just like all of those other movies, it'll probably fare terribly with critics and then go on to make tons of money anyway.
The Starving Games hits theaters and VOD on November 8, just ahead of the Hunger Games: Catching Fire release on November 22.
Set in the most depressing corner of a post-apocalyptic future, our hero Kantmiss Evershot (Maiara Walsh) volunteers to take her manipulative younger sister's place in the 75th annual "Starving Games." In doing so, she must leave behind her smoldering just-a-friend Dale (Brant Daugherty) and team up with the geeky baker's son Peter Malarkey (Cody Allen Christian) in a fight for her life. But wait, there's more! She could also win an old ham, a coupon for a footlong sub at a six-inch price, and a partially-eaten pickle!
In The Starving Games, Friedberg and Seltzer's sixth cinematic spoof of popular box-office hits, the prolific parody duo has its sights trained on the adventure blockbuster The Hunger Games! It's all the laughs and half the calories as they sling dozens of cock-eyed, barbed arrows at sci-fi, action and fantasy films from The Avengers and Oz the Great and Powerful to pop culture characters and celebrities like Harry Potter and Taylor Swift.