/Film Interview: Adam Scott Talks About Being A Leading Man In 'A.C.O.D.'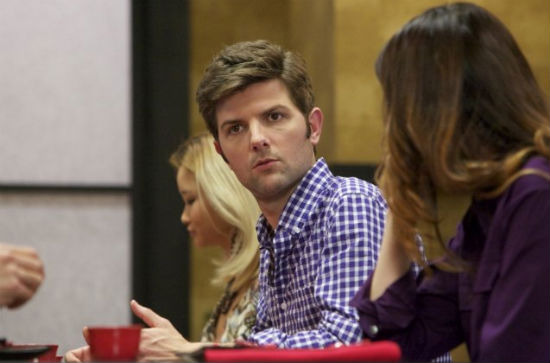 I can talk ad nauseum about how good A.C.O.D. is but it comes down to one, small thing. This is the film where Adam Scott becomes a leading man. Scott, who has been a lead on TV, usually plays the small, scene stealing role in films. But when writer director Stu Zicherman was asked about the one person he'd like to play Carter, the adult child of divorce at the center of his poignant comedy, Scott was the first name on the list. Then, because Scott had worked with actors like Jane Lynch, Richard Jenkins and Amy Poehler on other projects, the film soon became a star-studded affair.
We had the opportunity to speak to Scott about his new leading man status and how he was able to use his friendships to help fill A.C.O.D. with such incredible talent. The post-Sundance stress of the film also came up, as did the film's incredible ending, working with a first time director, his upcoming roles in Hot Tub Time Machine 2, The Secret Life of Walter Mitty and a certain video blog on /Film.
A.C.O.D. is now playing in New York and Los Angeles. It opens Friday in several other cities. Read our exclusive interview with its star, Adam Scott, below./Film: Congrats on the movie. I saw it at Sundance and I loved it. I've followed it ever since and I was really stoked to see it again last night.
Adam Scott: Did you do like a video review of it?
Yes, I did.
I saw that. That was very nice of you. You said really nice things about it. So I know your work.
Well, thank you. So Stu said he had you in mind the whole time. How did he approach you? Was he like "Hey here's this movie where you're in every scene?"
Yeah, they just sent me the script. I loved it immediately and said "Yeah, if you're willing to give me this job, I would love to do this movie." So yeah, it was pretty easy. I agreed immediately.
How did the executive producer credit come about?
I don't know. I think they just offered it and then I helped a little bit with the cast.
I feel like almost every person in this movie you've worked with before.
Yeah.
Was it you and Stu collaborating on that?
Yeah, I mean they had ideas about who they wanted to cast and if it was someone I knew, I certainly would call them up or email them and tell them that "these guys are great. The script is great. If you have time and want to, we would love to have you." And lucky for us, we got all the first choices for the roles.
How does that affect your performance? Does being around people you've worked with before make things easier?
You know, there's nothing better than making stuff with your friends, so working with people I know and we trust each other... it makes the scene so much more fun and there's no "get to know you" period, we can just... Poehler and I, we don't talk about a scene at all before we do it, we just do it and see where it goes and that's really fun.
Stu said he liked to stick to the script most of the time and only give you one or two takes for improv. Were you guys cool with that?
Yeah, the script was great. There wasn't really any need for improv and there wasn't time really either, because we were in such a rush the whole time. But yeah, we were lucky the script was so great that there wasn't really a need to do much of that.
This movie hopefully will turn you into a leading man in Hollywood's eyes. Is that something you want or were conscious of with this script?
Well, I had been the lead a couple times before and it's a lot of work, and in this one I don't think there's a scene I'm not in. I mean the times I had done it before there were at least a few scenes here and there that I'm not in where you get a day off or something. But on this one it was pretty much all day every day and I was tired. But it was really fun and sure, if you get an opportunity to be a lead in a movie you would be crazy not to take it. As an actor, it's kind of what you wait for.
Carter is a complicated character in that he's funny, but he's really messed up. How do you channel that into a performance?
It's written so well that you take it scene by scene and just jump in and do the scenes. The other actors are so great you just shoot it and see where it goes basically.
It's Stu's first movie and it's a movie that heavily relies on the tone, with big shifts form funny to dramatic. Were you worried at all about having a first time director tackle this script even though it was his script?
Yeah, not at all. I mean Stu was very assured and confident from the beginning, so no. It never even crossed my mind actually. It was such a calming presence the whole way through.
What is his directorial style like? Are there a lot of takes?
No, not a lot of takes. He and I worked a lot on, since the character is through the whole movie and we are jumping all around shooting-wise, we are not shooting in order at all, we just tracked the whole thing to make sure what we were shooting fits in with where that scene falls in the movie. There's a very specific arc to the characters, so you have to pay attention to that and hope you're not veering off and doing something that won't make sense when it's all cut together.
SPOILERS FOR THE ENDING OF A.C.O.D. The ending of the movie is so perfect. Literally I was at Sundance cheering for you guys about what you did, with no closure, because obviously it could be all three of them. Was there discussion about who it was at all? I don't even want to know if there's an answer...
There wasn't. None of us really knew. We knew it was going to be ambiguous and I don't think Stu and Ben even really know either. So yeah, who knows? Maybe all three of them are getting married.
END OF SPOILERS. Has the wait for distribution been frustrating?
No. I think since it played at the end of [Sundance], a lot of distributors were gone already, so it was just a matter of making sure it was screening for distributors and I think they ended up getting the best deal possible anyway. It just took a little longer than if it had screened at the beginning of the festival and they were all there.
You worked with Clark Duke again on Hot Tube Time Machine 2. The original has a ton of fans; what can they expect from that movie and how did the shoot go?
It was fun. We shot it over the summer in New Orleans. It was fun. This time they go to the future, so they have that to look forward to. Yeah, it was fun.
And there's already Oscar buzz for The Secret Life Of Walter Mitty. From the trailer, it looks like you play, well, the asshole type.
I don't know, I mean certainly not a nice person, but I don't know what type of person he is. (Laughs) But it's a really cool, interesting, amazing movie.
Did Ben Stiller give you any big stunts to do?
Yeah, there's some cool stunts in it.
What was that like to shoot? People might not first think of you in connection with stunts. 
Yeah, fun. It was great. I can't really say too much about it, but the whole thing was just an incredible experience.
Ten minutes of that were screened at CinemaCon and people immediately started with Oscar talk. Is that a scary thing, or good? 
As far as I'm concerned that's great. Yeah, I mean I'm certainly not going to complain. It's a beautiful movie, so I think everyone is really excited about it.
A.C.O.D., starring Adam Scott, Richard Jenkins, Catherine O'Hara, Amy Poehler, Clark Duke, Jessica Alba, Mary Elizabeth Winstead and Jane Lynch is now playing in New York and Los Angeles. It expands Friday. Click here for theaters.