Read Exclusive Stories Behind Art From New 'Crazy 4 Cult 2' Book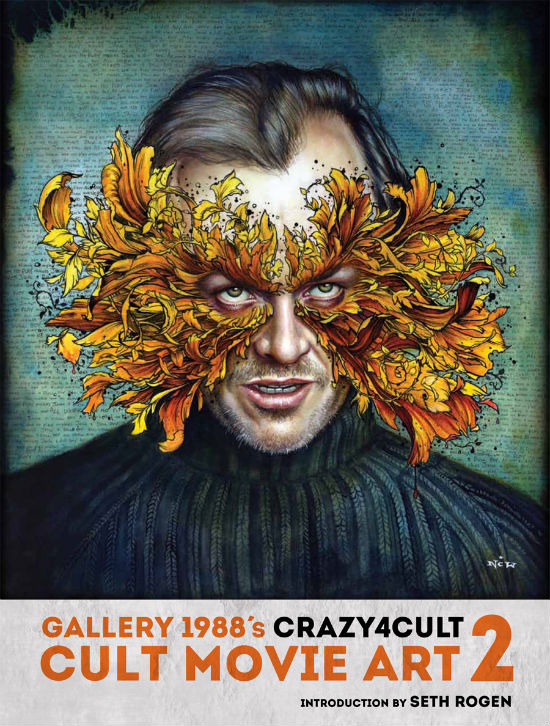 We may receive a commission on purchases made from links.
Los Angeles residents are incredibly spoiled when it comes to pop culture art events. Most of that is because Jensen Karp and Katie Cromwell opened not one but two Gallery 1988 locations in the City of Angels. Every few weeks, a new art exhibit goes on the walls celebrating either an artist or subject, usually with a pop culture theme. Lost, Breaking Bad, Edgar Wright, Judd Apatow, the list of awesome Gallery 1988 subjects goes on and on. If you don't live in Los Angeles, usually you can't experience these for yourself.
That's why, in 2011, Cromwell and Karp released a beautiful coffee table book called Crazy 4 Cult, based on the Gallery's signature exhibit. Next week, they're releasing the sequel, Crazy 4 Cult 2, and we got Karp to exclusively explain some of his favorite images in the book. They're based on Ferris Bueller's Day Off, Shaun of the Dead, Rushmore, Pee Wee's Big Adventure, Donnie Darko, Willy Wonka, Coming to America, Back to the Future and Wet Hot American Summer.
To grab a copy of Crazy 4 Cult 2, visit this link. And keep an eye on @Galleries1988 for info on signings and more.
Here are nine of Karp's favorite pieces in the book, and a brief description of each.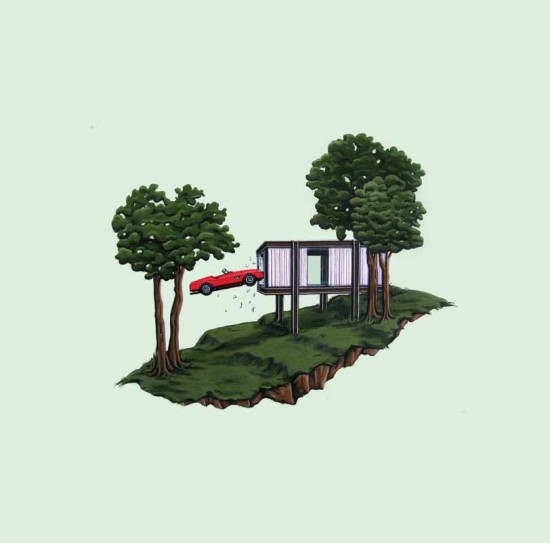 Kiersten Essenpreis – I Gotta Take A Stand
Jensen Karp: Kiersten has quickly become one of my favorite artists we show. So much so that I currently have 4 of her pieces hanging on my wall, and 2 more ready for commission. She's really able to capture these locations from films, almost in a lonely independent way, so much so that people don't even put together what it's from immediately. But once you figure it out, it's almost like you cracked a puzzle. For Ferris, she was able to produce art that conveys that iconic moment when Cameron watches his father's prized car plummet out the garage – but at the same time create work that stands on its own. My favorite pieces are always the ones that don't scream its influence at you, and this is a great example.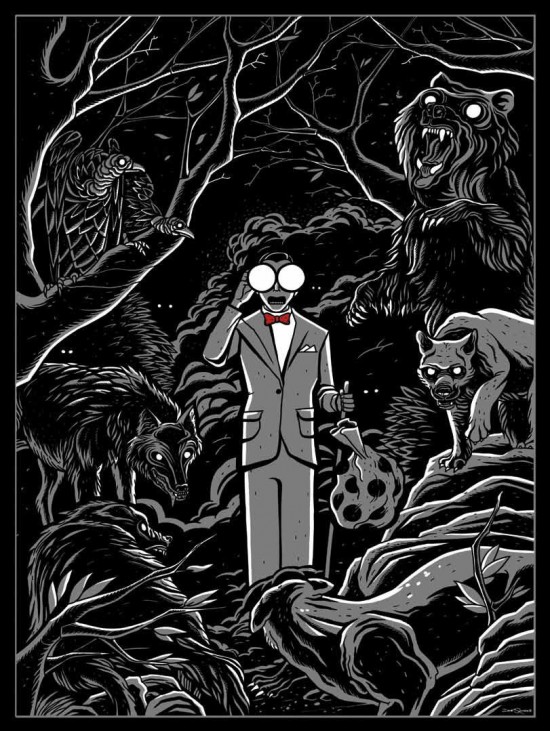 Dave Quiggle – Pee-Wee's Headlight Glasses
Jensen Karp: I have a soft spot for Pee-Wee Herman. We even had a Pee-Wee focused exhibit at the gallery that he gave his blessing to. I grew up loving his TV show, and most of all his Tim Burton film "Pee-Wee's Big Adventure." Dave was able to create this screenprint and really capture the artistic merit and quirkiness of the movie. A lot of what makes a successful Crazy 4 Cult piece is what is actually depicted. There are certain scenes people ust can't wait to celebrate by putting on their wall. This is one for me. Pee-Wee thinks he's alone in the dark outdoors, only to realize he's surrounded by wild animals. Dave used glow in the dark inks to recreate the scene and effect. It was just a genius print for a genius movie.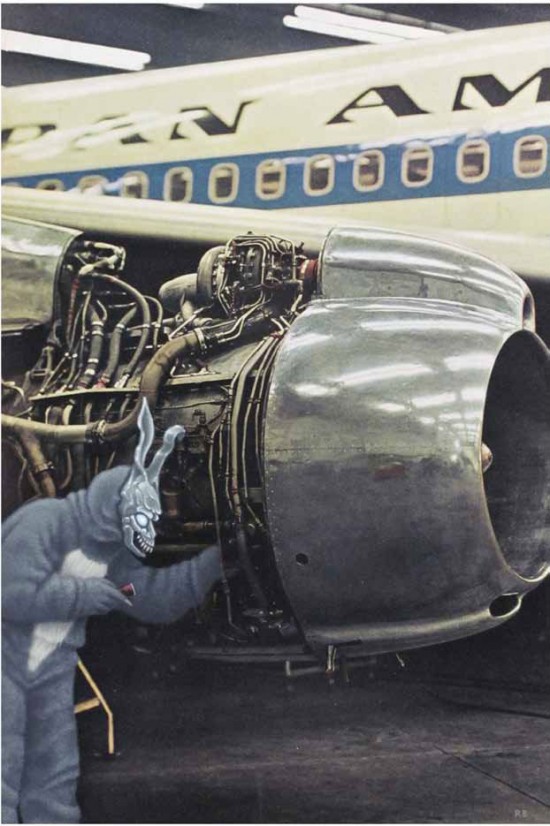 Robert Brandenburg – Engine Maintenance, Hangar 14
Jensen Karp: Robert is an artist that I always think about. We learned of his work when a relative of his walked into the gallery and immediately said, "This is where Robert has to show his work." And his relative was right. There's genuinely no other place in the world that makes as much sense as us. He takes lifeless paintings, prints and ads that he finds solely at trading posts and swap meets and adds elements of pop culture and humor to them, perfectly. It's almost like you can't even believe he did it. It looks like he digitally printed it in using photoshop. But it's all by hand and you can't even tell where he made the changes. In this case, he took a vintage airline ad and replaced a repairman with Frank the Bunny from Donnie Darko, almost to make sure the final scene in that confusing movie happens. It's a smart piece and a very smart technique he uses. This was a big hit at the show.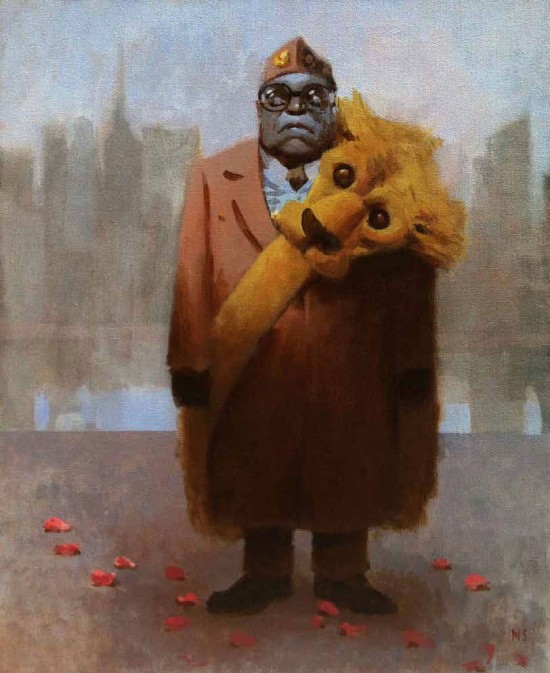 Nathan Stapley – King Jaffe Joffer
Jensen Karp: Honestly, anything inspired by Coming to America takes the fast track to my heart, but Nathan's work is always special to me. His style for portraits is always similar: almost like it COULD be the work of an artist of yesteryear hanging in a museum. BUT this piece of a seminal characters from one of the best 80's comedies could really only be in one museum – Gallery1988. And we're proud of that. Just looking at this piece makes me laugh and reminds me of everything I love about this film – which is a lot.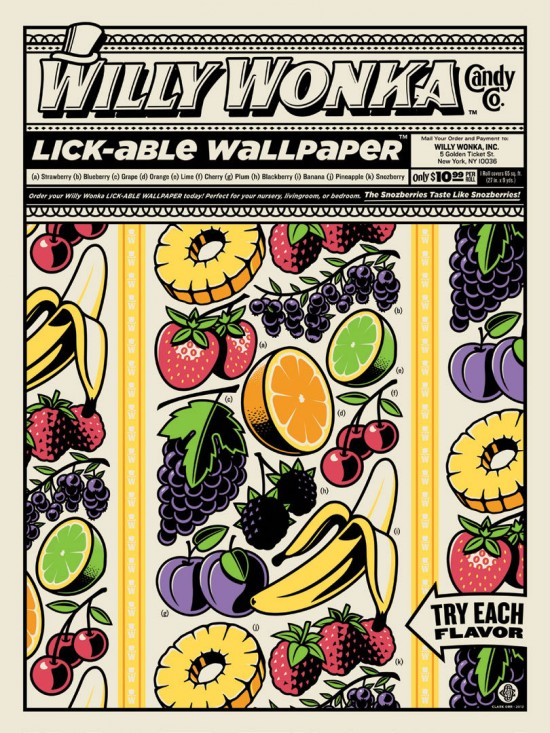 Clark Orr – Lickable Wallpaper
Jensen Karp: I frequently say that this Clark Orr piece is my favorite Crazy 4 Cult print ever, and I stand by it. It's just so well designed and again a piece that takes a second to figure out. It sold out so fast, and luckily went to a lot of buyers who couldn't wait to hang it on their wall, not just resell it for profit on eBay. The coolest part of the print? Clark printed them all on scented paper, to actually give the Wonka effect. This thing is awesome and encapsulates everything I love about out gallery in one piece.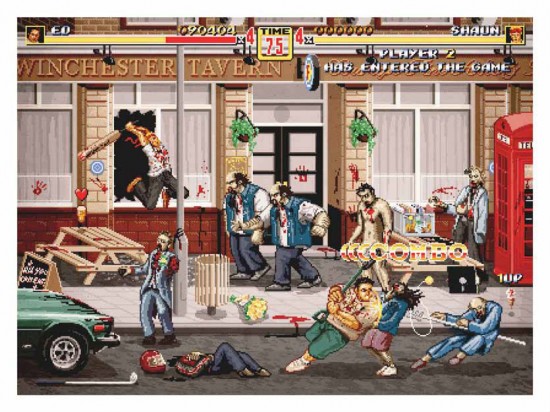 Aled Lewis – Player Two Has Entered The Game
Jensen Karp: Buyers always ask me who to start collecting next. We've been an early stop on a lot of fast trains, so people always want to know who's the next great investment. And I do believe Aled Lewis is that person. He has a solo show coming up at G1988 that seems UNREAL, and every piece he releases is more inventive and well executed than the next. This one, inspired by Shaun of the Dead is ALL OVER the internet, but it started as a Cray 4 Cult print that sold out instantly. He recently did a sequel to it for a scene from Hot Fuzz, but the Nintendo game angle he took was so good and just a fan favorite. And a favorite of mine.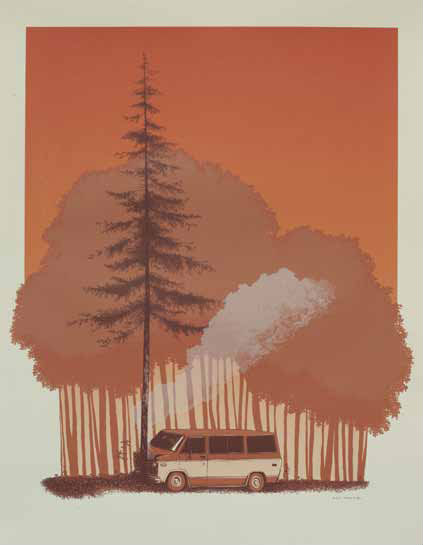 Justin Santora – Wait For Me, Abby Bernstein
Jensen Karp: I have a few favorite movies, with my #1 always being The Burbs (yes, I know it's weird), but Wet Hot American Summer is a real close second. I saw it in college and influenced so much of my life. So when Justin Santora did this print capturing the van crash from the movie I was ecstatic. Stars of the movie like Ken Marino, Paul Rudd, Chris Meloni & Joe Lo Trugilo all bought Wet Hot American Summer pieces from us, and that's just mind numbing. When we first opened the gallery, Katie & I were OBSESSED with this movie and it was our dream to show work influenced by it. So Justin's was a beautiful culmination of that dream – and another piece that works as it's own piece of art even if you haven't seen the movie (which is appalling thought. GO SEE IT NOW)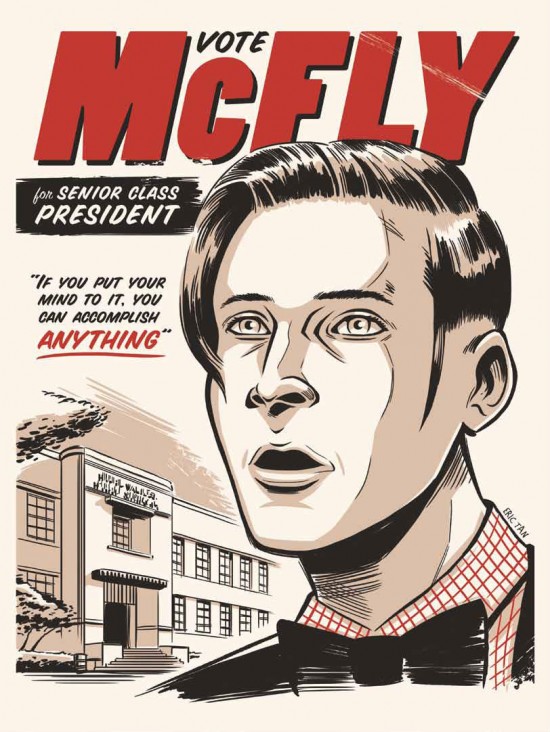 Eric Tan  - In George We Trust
Jensen Karp: We first met Eric when we started working with The Walt Disney Company. His boss in the Consumer Products division suggested we check out this "kid" he had working for him and maybe his art will fit in our space. The rest is history. He's been showing with us for maybe 8 years now and we've watched him grow into one of the better print artists in the world. Because of his day job he rarely has time to create work for the gallery, but when he does, the work is so memorable. He is a frequently creating work loosely inspired by the Back To The Future movies and this one I just love. It captures the McFly optimism and anyone who likes the films (let's pretend part III doesn't exist), should love this. Eric is proof that when a fan of a certain movie/TV show creates artwork on something they are passionate about and they're very gifted – the results are incredible.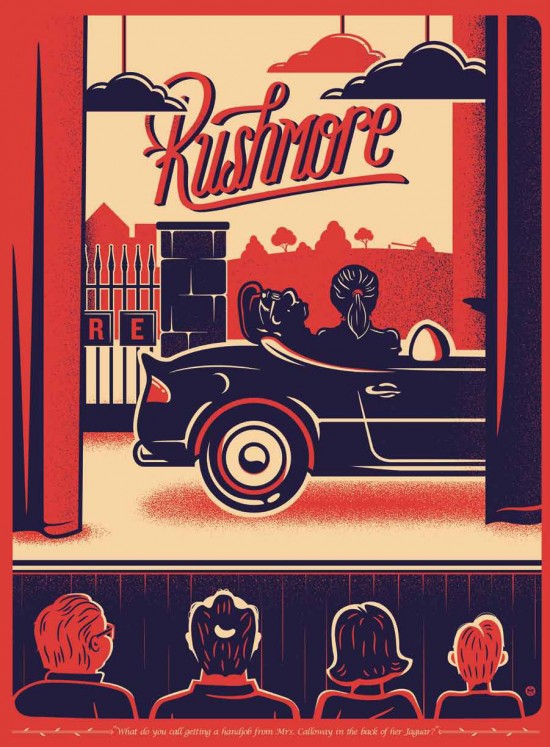 Chris DeLorenzo – It Was The Handjob
Jensen Karp: I'm not always a fan of art based on Wes Anderson movies. On the internet it's sort of been beaten to death. So your piece has to be both very good and very unique for me to pay attention, and this Chris DeLorenzo piece is both. Again, a piece that doesn't just yell "RUSHMORE!" at you, even though it says it on the poster, I always imagine how cool this one would be hanging on someone's wall. I also love Chris's typography. He always is using great fonts I've never seen before. A really fun and fresh way to tribute a good movie that just might have too much art out there already.