'Doctor Who' Star To Lead 'American Psycho' Musical; Bryan Cranston Heads To Broadway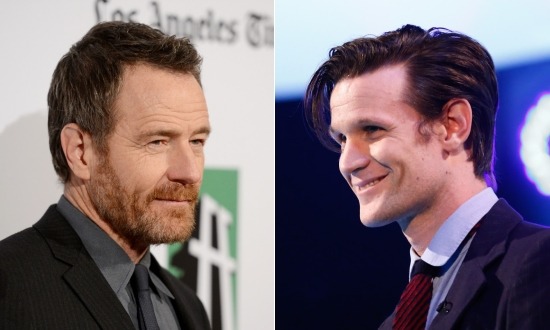 How do you follow up a years-long stint as one of modern television's most iconic characters? For Breaking Bad star Bryan Cranston and Doctor Who star Matt Smith, the answer lies on the stage.
Cranston is set to make his Broadway debut this winter with All the Way, a historical drama in which he plays former U.S. president Lyndon B. Johnson. Meanwhile, Smith has signed on for the British musical version of American Psycho, which launches in December. Hit the jump for more details on their new roles.
Cranston has received rave reviews for his performance, and is already being talked about as a potential Tony Award contender for next year. According to producer Jeffrey Richards, Cranston is the only cast member currently confirmed for the Broadway production. Wright told the New York Times that All the Way would premiere in New York this winter, but did not reveal a location or specific start date for the run.
The details are much clearer for Smith's West End stint as banker/murder enthusiast Patrick Bateman. Deadline reports that the musical will play at the Almeida Theatre from December 3 through January 25. The show has a book by Robert Aguirre-Sacasa (Spider-Man: Turn Off the Dark) and music and lyrics by Duncan Sheik (Spring Awakening). Rupert Goold is directing.
Smith is a stage vet who has previously starred in London productions of The History Boys, Fresh Kills, and Swimming With Sharks. He'll be joined in American Psycho by Ben Aldridge, Charlie Anson, Jonathan Bailey, Katie Brayben, Cassandra Compton, Holly Dale Spencer, Susannah Fielding, Simon Gregor, Holly James, Lucie Jones, Tom Kay, Gillian Kirkpatrick, Eugene McCoy, and Hugh Skinner.
Fortunately for those of us who do not reside in New York or London, this turn to theater does not spell the end of Cranston and Smith's onscreen careers. Cranston recently wrapped Gareth Edwards' Godzilla, which opens next summer. Smith will make his final appearance as the Eleventh Doctor on the Christmas special at the end of the year. He stars next year in Ryan Gosling's feature directorial debut How to Catch a Monster.