Derek Cianfrance To Direct Crazed Clown Weirdness 'A Cotton Candy Autopsy'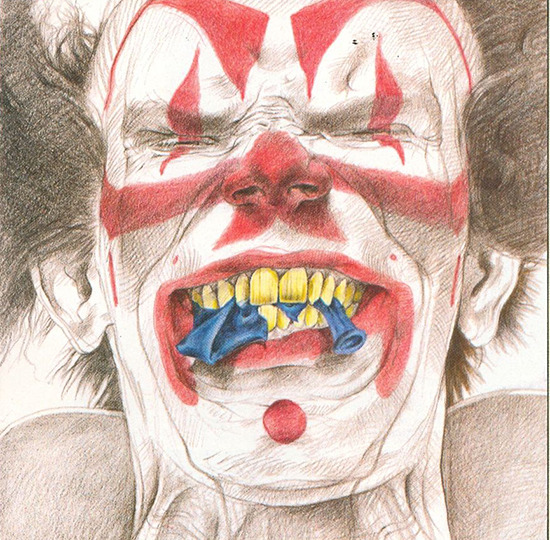 The guy who made Blue Valentine and The Place Beyond the Pines is now set to direct a film about clowns on a drunken rampage. Derek Cianfrance says he's attached to make A Cotton Candy Autopsy, and he's got his Place Beyond the Pines supporting actor Ben Mendelsohn to star.
The story is one that real old comics nerds might know, as it was the first issue in DC's short lived "serious adult" comics anthology Beautiful Stories for Ugly Children that ran from '89 to '92. Dave Louapre wrote and Dan Sweetman drew the 30 issues of the series, of which A Cotton Candy Autopsy was the first. The story opens with a circus burning down, and follows a set of friends (or "friends") from under the big top as they flee on a weird road trip. 
Jeff Goldsmith podcast (via The Film Stage) recently featured Cianfrance, who said,
I'm going to write a movie with Darius [Marder, The Place Beyond the Pines co-writer] called A Cotton Candy Autopsy... I don't know how to describe it, except that it'll be a crazy movie ... Ben Mendelsohn will be in that one.
No word on a timeline or anything else for this one; Cianfrance did say that his HBO show Muscle has been dropped, and that another project, Nurture, isn't likely to be shot. Cianfrance does have the DreamWorks project The Light Between Oceans and he recently was set to direct the ESPN origin story Those Guys Have All the Fun.
Sweetman's art for A Cotton Candy Autopsy was also incorporated into something else in the pile of treasured possessions for old nerds: the artwork for the first commercially-released LP from Mr. Bungle.