Star Wars Bits: Ben Kingsley, Chloë Grace Moretz, 'Tiny Death Star', More Concept Art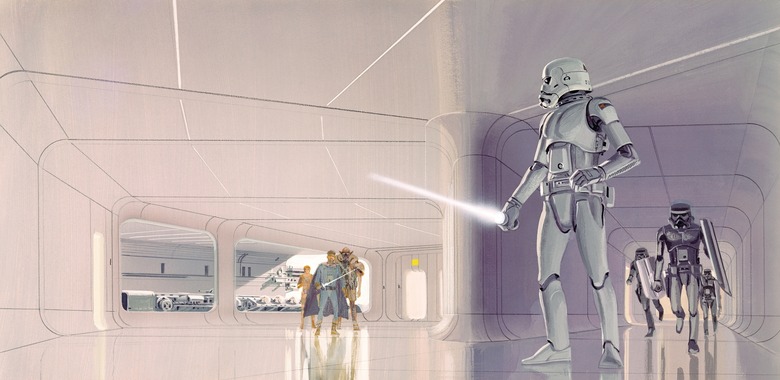 We may receive a commission on purchases made from links.
The rumor mill continues to churn, as one actor is reported to have read for a part, and another denies that she has. After the jump:
Ben Kingsley may also have read for Episode VII
... while Chloë Moretz insists she has not
Pinewood Shepperton wants to expand further
J.J. Abrams isn't abandoning Trekkies
Star Wars: Tiny Death Star is coming soon
See gorgeous images from Star Wars Art: Concept
On the other hand, it sounds like just about everyone's read for a part at this point, and there's no guarantee that he'll lock the part. In the meantime, look for Kingsley in Ender's Game, due out November 1. [Furious Fanboys]
Meanwhile, Chloë Grace Moretz would like to make it clear that she has not auditioned for the film. Although rumors have been swirling about the young actress, she insisted in a recent interview that she hasn't gone in for a part. Though she wouldn't mind if that changes.
No, no rumors I don't know how they get started. But it would be great to be a part of it. I don't think Disney doesn't know what's really going to happen. I don't even think they cast the principle roles yet.
Of course, she'd probably say that even if — maybe especially if — she were up for a role. So make of that what you will. [Latino Review]
Some of the biggest hits of the past few years have shot at Pinewood Shepperton, and Star Wars Episode VII is headed there as well. But the British studio facilities operator says all this success has them in a tight squeeze. "We need to increase capacity at Pinewood Studios," chairman Michael Grade said.
The company has been pushing to for more space for some time now. However, earlier this year, a British district council rejected their application for a $300 million expansion for a second time. Pinewood has now appealed to the national government, and a public inquiry is set to begin November 19.
"The company continues to invest in its existing facilities to ensure that it remains a leading destination for producers of creative content," said Grade. To that end, the facility recently completed construction on the new Q stage, and has plans to open an on-site movie theaters for film crews and locals. [THR]
It's well known that J.J. Abrams wasn't much of a Star Trek fan until he started working on the 2009 film, whereas he's been a Star Wars lover for most of his life. That's led to the impression that Abrams ditched Trek for the rival franchise at the first opportunity, but Abrams insists that there's room for both in his heart.
That's crazy. I would say this: as someone who has become a late in life Trekkie, I really think there's room for both these things. It's funny because Star Trek in some ways informs Star Wars. We did Star Trek...my love of Star Wars, the energy of it and sort of the comedy and rhythm of it I think effected Star Trek. There such different worlds though. The stories, the characters, the universes. One is sort of our future, much more science based in theory. Star Wars is like a fairy tale that happens to take place in space. They're very different beasts.
Watch the rest of Abrams' interview at PBS.org. [via Comic Book Therapy]
Star Wars invaded Angry Birds to great success, and now it's preparing to take over Tiny Tower. Lucasfilm and NimbleBit are teaming for Star Wars: Tiny Death Star, to hit mobile devices in the near future.
The original Tiny Tower has players constructing and managing a building to attract workers and residents. Tiny Death Star will follow a similar format with a few changes. Players will work with Darth Vader and Emperor Palpatine to build a new Death Star, while trying to grow businesses within. Other Star Wars characters and locations will be incorporated as well. [Variety]
The Star Wars franchise never skimps on visuals, and a new coffee table tome called Star Wars Art: Concept shows off some of the sumptuous work that goes into bringing the galaxy to life.
The book, which hits shelves October 15, features concept art by Ralph McQuarrie, Richard Lim, Kinman Chan, and Hajime Sorayama, and more, for everything from A New Hope all the way up to (the sadly cancelled) Star Wars: 1313.
The regular edition costs $40, while a limited edition of just 350 copies goes for $400 each. That extra $360 buys you over fifty pages of additional art and five hand-signed giclee prints from the contributors. Hit Amazon or the retailer of your choice to pre-order. [io9]