'I, Frankenstein' Trailer: What If Mary Shelly's Monster Was In An Underworld Movie?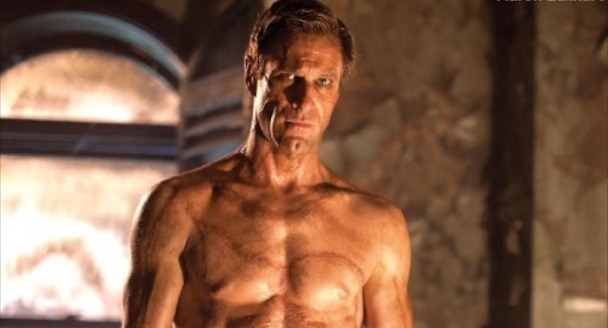 You won't even need to see the credit card that says I, Frankenstein is from the creators of the Underworld films to get that series' vibe from this trailer.
This film casts Aaron Eckhart as the best-looking Frankenstein monster ever in a story that goes with the now-standard over-inflation of stakes. In other words, this isn't a tale about man overreaching his capability or encroaching on God's territory by making his own creation; it's about the THE END OF ALL MANKIND. Oh, and the Frankenstein monster has been around for two hundred years which, I guess, accounts for the fact that he's grown to be so good-looking.
The first trailer features a lot of CG monsters and gargoyles, and no shortage of action glamour shots.
I, Frankenstein is based on a graphic novel by Kevin Grevioux. It also stars Bill Nighy, Yvonne Strahovski, Miranda Otto and Jai Courtney. The film opens on January 24.
200 years after his shocking creation, Dr. Frankenstein's creature, Adam, still walks the earth. But when he finds himself in the middle of a war over the fate of humanity, Adam discovers he holds the key that could destroy humankind. From the co-writer of the hit supernatural saga, UNDERWORLD, comes the action thriller I, FRANKENSTEIN, written for the screen and directed by Stuart Beattie, screen story by Kevin Grevioux and Stuart Beattie, based on the Darkstorm Studios graphic novel "I, Frankenstein" created by Kevin Grevioux. The story is brought to life by a cast that includes Aaron Eckhart, Bill Nighy, Yvonne Strahovski, Miranda Otto, Jai Courtney, and Aden Young as Victor Frankenstein.