'American Hustle' Character Posters: When Bad Hairdos Happen To Not-So-Good People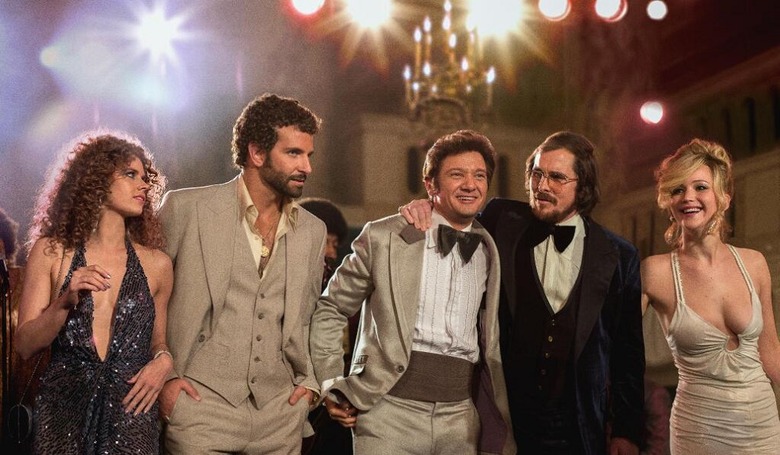 David O. Russell's American Hustle features one of the most promising ensemble casts of any film this year, but the first batch of character posters splits everyone up. All the better to give each A-list star their own space to shine, I guess. Hit the jump to see Christian Bale, Bradley Cooper, Amy Adams, Jennifer Lawrence, and Jeremy Renner decked out in their best '70s garb.
If there's one thing to be gleaned from these posters, it's that the '70s were not kind to men. Lawrence and Adams look gorgeous as always, but those hairstyles are doing Bale, Cooper, and Renner no favors. Of course, they're super handsome movie stars to begin with. Even with a beer belly and a combover, Bale looks better than most of us normals.
As if these two Oscar winners and three Oscar nominees weren't enough, the cast also includes Robert De Niro, Louis C.K., Alessandro Nivola, Elisabeth Rohm, Jack Huston, and Michael Pena.
American Hustle opens December 25. Here's the plot:
A fictional film set in the alluring world of one of the most stunning scandals to rock our nation, American Hustle tells the story of brilliant con man Irving Rosenfeld (Christian Bale), who along with his equally cunning and seductive British partner Sydney Prosser (Amy Adams) is forced to work for a wild FBI agent Richie DiMaso (Bradley Cooper). DiMaso pushes them into a world of Jersey powerbrokers and mafia that's as dangerous as it is enchanting. Jeremy Renner is Carmine Polito, the passionate, volatile, New Jersey political operator caught between the con-artists and Feds. Irving's unpredictable wife Rosalyn (Jennifer Lawrence) could be the one to pull the thread that brings the entire world crashing down. Like David O. Russell's previous films, American Hustle defies genre, hinging on raw emotion, and life and death stakes.