'The Amazing Spider-Man 2' Writers Return For 'The Amazing Spider-Man 3'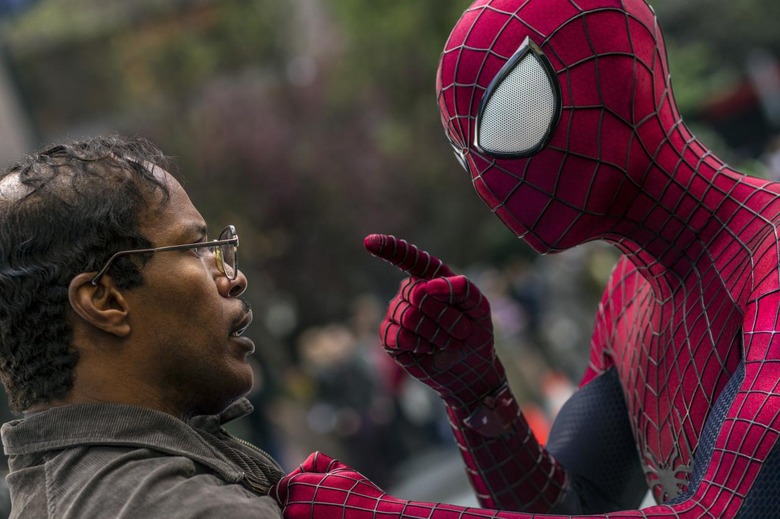 Sony must be happy with how The Amazing Spider-Man 2 is turning out because they're bringing back the credited writing team for the third film. Alex Kurtzman, Roberto Orci and Jeff Pinkner will write The Amazing Spider-Man 3, which already has a release date of June 10, 2016. Andrew Garfield will return for sure, and the studio apparently wants director Marc Webb to come back too. There's no word on the villains, but with so many appearing in next summer's sequel, odds are we'll see one or two of them back. (Paul Giamatti as Rhino? Dane DeHaan or Chris Cooper as Green Goblin?) There's also been talk these Spider-Man films are leading to the formation of the Sinister Six.
The Hollywood Reporter broke the news of this hiring and explained Kurtzman, Orci and Pinkner will also get story credit for the third film. James Vanderbilt wrote the first film, and the first draft of the second film, but only gets story credit this time around.
This marks the second third film Kurtzman and Orci are lined up to write. The pair are also attached to write Star Trek 3, along with a few other projects.
Keeping the same writers on a series that is, hopefully, growing into a bigger comic book world is obviously a plus. But Kurtzman and Orci, for all their fandom and genre experience, haven't won over many fans of late. I have a feeling there will be backlash over this decision. That could all change, however, on May 2, 2014 when The Amazing Spider-Man 2 finally hits the big screen. If the film is solid, much will be forgiven and this decision will be looked back with reverence.
What are your thoughts?