Disney Prepping Live-Action Film Based On '101 Dalmatians' Villainess Cruella De Vil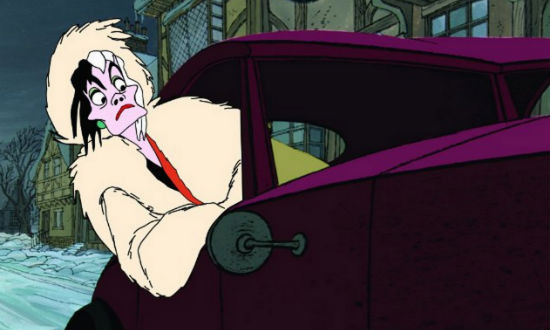 Apparently, Disney has found another niche of their catalog to mine moving head. They're currently finishing Maleficent, starring Angelina Jolie based on the villainess in Sleeping Beauty and now another foul Disney female is heading to the silver screen. The company has just hired writer Aline Brosh McKenna (Cinderella, The Devil Wears Prada, Annie) to write Cruella, a live-action film based on the classic villainess from 101 Dalmatians. Six-time Oscar-nominee Glenn Close played the role in two live action films but those were centered on the dalmatians. This will likely focus on her backstory, but that's unconfirmed.
Producer Andrew Gunn (Sky High, Bedtime Stories) is also attached.
The Hollywood Reporter broke this big news, the third live-action reinvention of one of Disney's classic animated films. In addition to Maleficent, which opens May 30 from director Robert Stromberg, Kenneth Branagh is currently filming a live-action version of Cinderella. Cate Blanchett plays the Wicked Stepmother in that film.
Blanchet, Jolie, Close, the bar is set high for actresses playing live-action Disney villainesses. Whom they cast in Cruella, if it gets that far, will likely depend on how early in her life the film stretches. Most people know the character strictly as the older, wiser, terrible fashion plate hoping to get a dalmatian coat. How she got there is certainly a story most people – if any – know.
Here's hoping they work this classic track into the film. What do you think about this latest Disney trend?