'22 Jump Street' Starts Shooting; See The First Pics From The Set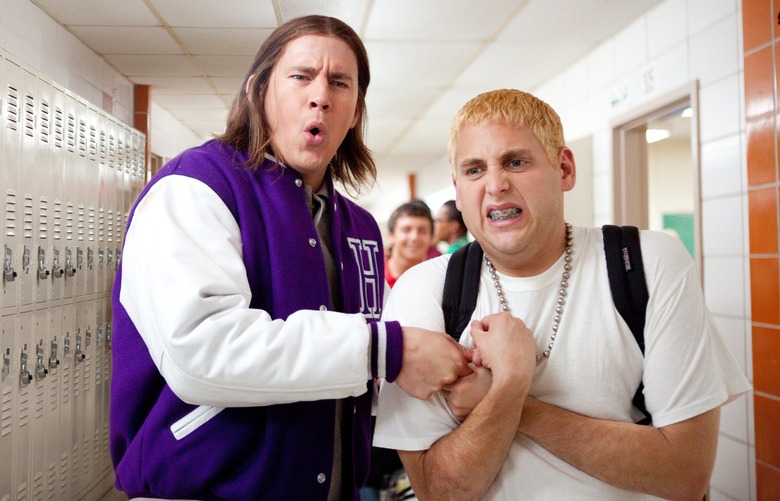 It's easy to imagine an alternate universe in which 21 Jump Street, an unasked-for reboot of a stale old property, sank in 2012 without leaving much of a trace. Instead, thanks to the crackling chemistry between leads Channing Tatum and Jonah Hill, the hilarious script by Hill and Michael Bacall, and the energetic direction by Phil Lord and Chris Miller, it turned out to be one of the year's pleasantest surprises.
Now the group has reunited to try and recreate that magic. Production on the sequel 22 Jump Street kicked off this past weekend in New Orleans, and we have the first pics from the set right here. Hit the jump to check 'em out.
In the action-comedy 22 Jump Street, after making their way through high school (twice), big changes are in store for officers Schmidt (Jonah Hill) and Jenko (Channing Tatum) when they go deep undercover at a local college.
Hill and Tatum offered a tongue-in-cheek statement about the can't-miss proposition of a 21 Jump Street sequel, complete with a nod to everyone's favorite supporting character Korean Jesus:
We are grateful to our friends at Sony and MGM for letting us do another one. We're proud to be working alongside Phil, Chris, Neal, Ice Cube, Korean Jesus and the rest of our amazing crew and cast. As we all know, sequels are ALWAYS better than the original. Every single time. This will be no exception. How are we still saying the exact same words at the same time? This is crazy! Jump Street!
Director Miller offered a tiny peek at the production on Twitter.
Day 1 of shooting. pic.twitter.com/EhylZB7v5P

— Christopher Miller (@chrizmillr) September 28, 2013
Tatum took to Instagram to document his workdays.
Had a lot of fun in this uniform. Almost time for me and #JonahHill to suit up again. #fbf #22jumpstreet
And so it begins... #22JumpStreet #Day1
22 Jump Street opens June 13, 2014.