Which Oscar-Winning Actress Filmed A Cameo In 'Dumb And Dumber To'?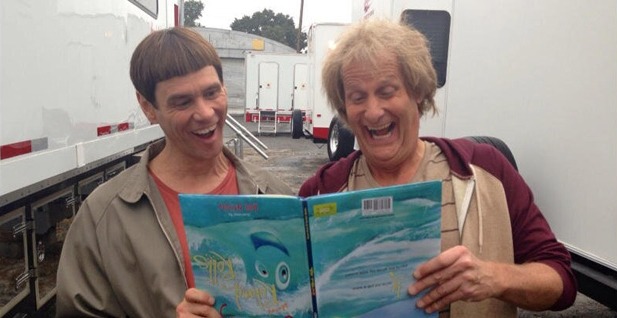 Harry Dunne and Lloyd Christmas are iconic characters in their own way, but the goofy roles aren't exactly the kind that attract Oscar love. So Dumb and Dumber To is adding a bit of Academy-approved sparkle in the form of a super secret cameo — or what was a super secret cameo, anyway, until the word got out and the headlines went up.
Hit the jump to find out which critically acclaimed actress is set to appear in the long-awaited comedy sequel. If you'd rather be surprised, we suggest that you not only avoid this article but the film's IMDb page.
THR reports that Jennifer Lawrence recently spent a day shooting scenes for Dumb and Dumber To. The Atlanta set isn't far from where The Hunger Games: Mockingjay is shooting, and their sources indicate that many of Lawrence's Hunger Games co-stars have also visited the Dumb and Dumber To set.
Lawrence will appear in the film briefly as the younger version of Kathleen Turner's character Fraida Felcher. Described as "a babe who worked for the tractor company," she's (in)famous to Dumb and Dumber fans as the woman who once hooked up with both Lloyd and Harry.
Although Lawrence has risen to the top of the young Hollywood ladder mostly on the strength of her dramatic performances, she's no stranger to comedy. Before her breakthrough performance in the grim Winter's Bone, she was best known for starring in the sitcom The Bill Engvall Show.
Moreover, she's also been more than happy to demonstrate her goofy side in interviews — like the one below in which she boasts to Jimmy Fallon that she knows "every word" to Dumb and Dumber, Step Brothers, and Anchorman.
Directed by the Farrelly Brothers, Dumb and Dumber To follows Lloyd (Jim Carrey) and Harry (Jeff Daniels) as they hit the road to find one of Harry's kids for a kidney transplant. Rob Riggle, Laurie Holden, Steve Tom, and Rachel Melvin also star. Cam Neely and Brady Bluhm reprise their roles as Seabass and Billy. A 2014 release is expected.
Lawrence next stars in The Hunger Games: Catching Fire, due out November 22, and American Hustle, scheduled for December 25.